Melanoma Meets Its Match
from the Record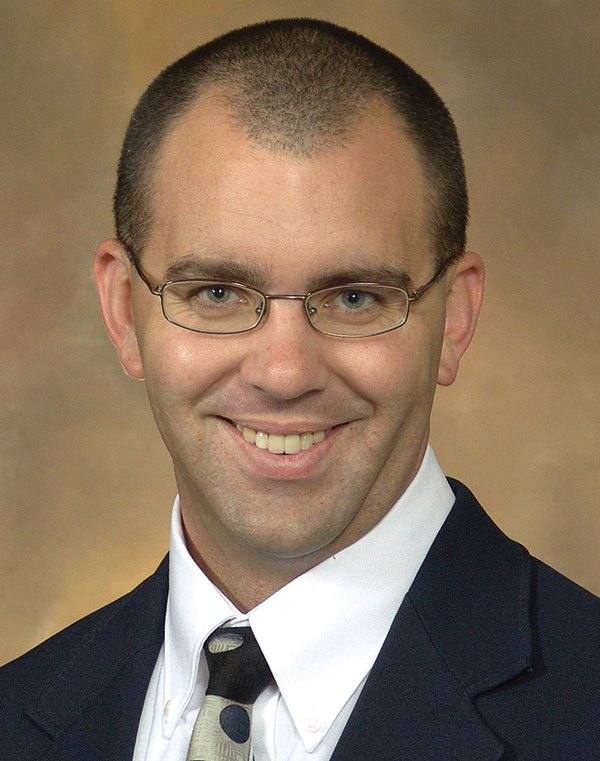 A lot of factors attracted the Virginia native to H-SC: its close proximity to home, its solid academic reputation, its small class sizes and accessible faculty members. "But at age 18, I needed to be able to play basketball, too," Hargadon laughs. "That was certainly my focus at the time." Recruited by legendary Coach Tony Shaver to play for the Tigers—and made to feel at home by legendary Dean of Admissions Anita Garland—the young Hargadon was soon sold on Hampden-Sydney.
Just a few months into his freshman year, however, the unthinkable happened: Hargadon was cut from Shaver's varsity lineup. Hargadon calls the experience devastating, but says he never considered transferring to another program, even though other coaches were calling. "The reality is, by mid-October freshman year I already loved it here. I was committed to staying at Hampden-Sydney, but I was just as committed to playing Tiger basketball. I wasn't going to give up one or the other." Hargadon's focus never wavered, and after proving himself on the JV squad he was brought up to finish the season with the varsity. The years to come included a trip to the national title game and an appearance on the USA Today All-USA College Academic Third Team.
"Had you told me in high school that I wouldn't make the varsity team, I would not have chosen Hampden-Sydney. But six weeks in, I was sold on what I could accomplish here—not just on the basketball court, but in the classroom and in campus activities as well. I wasn't going to give up on any of it—I was just going to work extra hard."
An immunology class with Dr. Anne Lund at Hampden-Sydney first introduced Hargadon to the field of cancer research that would become his life's work. "When we got to tumor immunology, I became absolutely enamored with it," he recalls. "Then an immunologist from the University of Virginia came in to talk about cancer vaccines, and I just ate it up." Hargadon was only a sophomore at the time, but that early connection would determine the course of his next ten years.
By his senior year, Hargadon had completed a collaborative research project with that same UVA immunologist and had elite graduate schools vying for him to enter their doctoral programs. "I knew I wanted to join the lab at UVA to work on cancer vaccines," he recalls, "so as soon as I was accepted into their program, I withdrew my other applications. The lab was studying melanoma at the time, so that's how my connection to that particular form of the disease came to be." Hargadon spent his six years of doctoral study researching cancer vaccines and immune suppression by melanoma, another two years as a post-doctoral fellow researching influenza virus, then turned his attention toward a teaching career.
The opportunities that Hampden-Sydney afforded him as a student convinced Hargadon that a small, liberal arts teaching college was where he wanted to spend his career—but he also knew that research was his passion. At Hampden-Sydney, Hargadon has found that the two are not mutually exclusive. Rather than trying to compete with labs at large research institutions, Hargadon found a small but significant niche in the massive field of cancer research, one that is drawing quite a bit of attention. Even more surprising is the extent to which Hargadon involves his students—all undergraduates, many still teenagers—in his research, scholarly publications, and presentations at national conferences.
Small School, Big Impact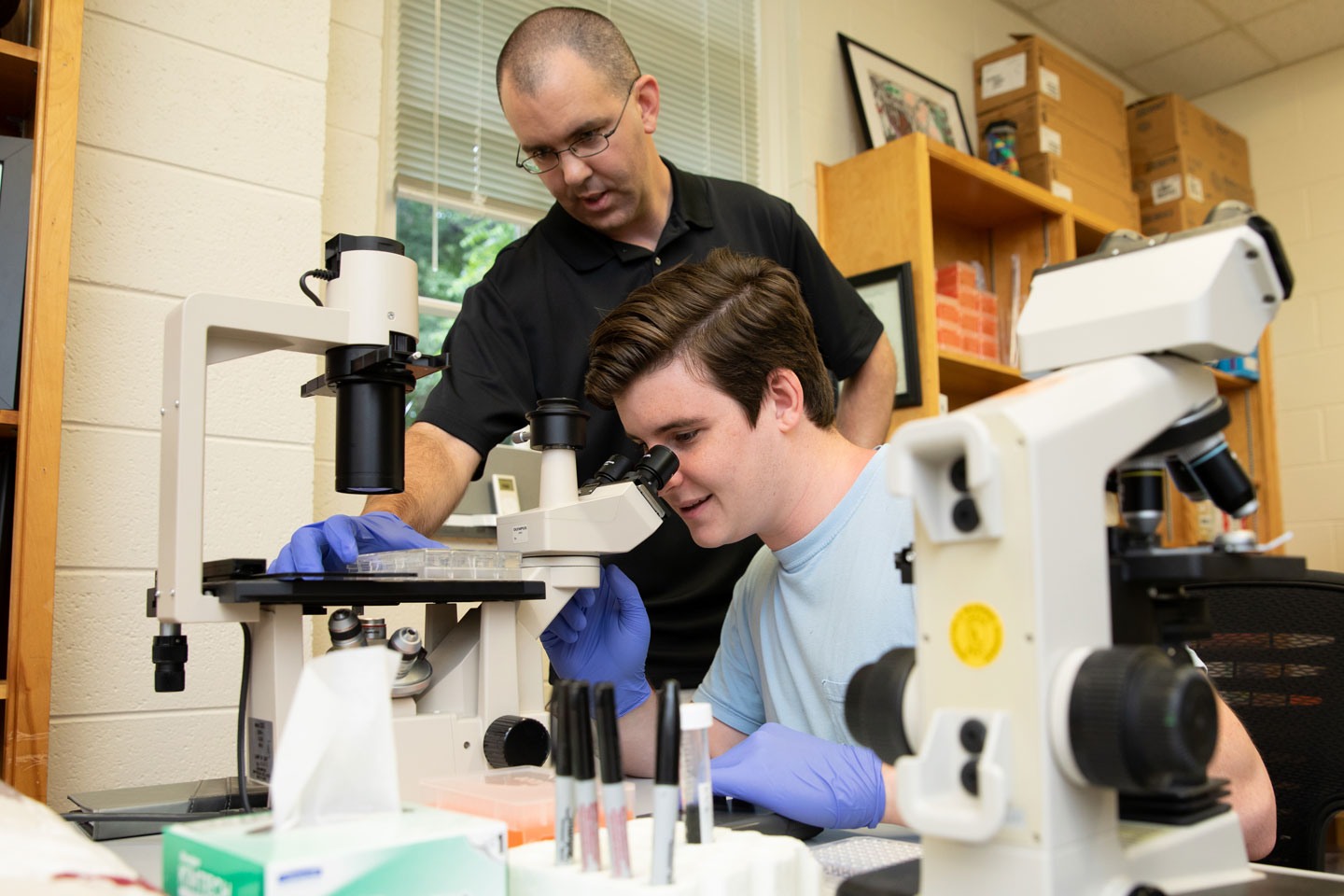 "There's this misconception that you can't do scientific research in a small school setting," says Hargadon, "but that's not true at all. We do exciting, relevant work here at Hampden-Sydney researching cancer, a disease that directly affects one in every two people and indirectly impacts 100 percent of the population. We've been able to carve out a niche here at the College working on melanoma in particular, but we're branching out into some other tumor types as well."
Although melanoma is quite treatable in its early stages, the cancer's tendency to spread to other organ systems makes it the most dangerous—and difficult to treat—form of skin cancer, accounting for the vast majority of skin cancer deaths even though it comprises only five percent of cases. Historically, many oncologists considered metastasized melanoma untreatable, with a one-year survival rate that hovered between 15 and 20 percent for many years.
The introduction of immunotherapy, however, has drastically changed the melanoma landscape over the past decade. Unlike chemotherapy, which uses drugs to attack all of the body's rapidly growing cells, immunotherapy harnesses the body's own immune system to detect and destroy cancer cells.
"Immunotherapy is what scientists had hoped chemotherapy would be," Hargadon explains. "We hesitate to use the word cure, but some call immunotherapy a functional cure for melanoma. Recent statistics show a five-year survival rate above 50 percent, and our research at Hampden-Sydney has particular relevance to the clinical outcomes of those patients whose tumors do not respond to this functional cure."
"Undergrads rarely get to do this type of work at the big research universities," Hargadon notes. "Some people say that working with students is a waste of time, but I couldn't disagree more. Their questions cause you to think differently about the problem. When you're fully focused on your research program, you're going to get blind to certain things and not think outside certain boxes. But students ask questions that make you think about aspects you might not otherwise have considered. Sure, it slows down the research at times," he admits, "but why am I here if not to teach my students?"
Even the teaching load of a small college has enhanced his work as a research scientist, according to Hargadon. "At Hampden-Sydney, I teach an immunology course, a genetics course, a microbiology course—and the training I've had to do to be proficient in all of these areas has positively impacted my specialty research," he says. "For example, I've brought a lot of genetics into my immunology research that I probably wouldn't have done in another setting. Honestly, it's made me a more well-rounded scientist."
Hampden-Sydney Presents
Hargadon's commitment to Hampden-Sydney students extends far beyond providing excellent classroom instruction and including them in his cutting-edge research; as he makes a name for himself in the world of cancer research, Hargadon is extending his students' influence beyond the Hill as well.
Plenty of undergraduate students attend academic conferences, but very few are accepted as presenters at the major national conferences. Yet Hargadon's students have presented their research at several annual meetings of the American Association for Cancer Research, which attract more than 22,000 cancer researchers from across the globe each year. H-SC students are often featured in the conference's student session. In 2019, then-senior Corey Williams '19 received an Honorable Mention Award for his presentation in that session, but he also presented his work in the main session—a rare feat at a meeting populated by graduate students, postdoctoral fellows, and senior investigators from research universities around the world. "To present at the main meeting is a big deal—very few undergrads get to do that, so it's a great resume-building experience for them," explains Hargadon, who also invited David Bushhouse '19 and Coleman Johnson '19 to join his presentation at 2019's main meeting.
Conference presentations aren't the only valuable resume-building experiences Hargadon's research fellows enjoy: 14 Hampden-Sydney students have been published in peer-reviewed academic journals, co-authors with their professor on seven different articles over the past 14 years. Publications in journals including Immunology and Cell Biology, Frontiers in Oncology, and Cancer Genomics & Proteomics have featured Hampden-Sydney student by-lines, and several students have co-authored more than one article with Hargadon. "To be named on a paper published in a peer-reviewed journal is very rare at the undergraduate level. Even years later, that will help students stand out as they apply to residencies and fellowships," he says.
From their work in the lab to their exposure in publications and conferences, Hargadon's students find that the experience prepares them well for graduate studies beyond Hampden-Sydney. One hundred percent of the students who have worked in Hargadon's melanoma research program have gone on to either medical school or doctoral programs in the health sciences. Says Hargadon, "The research we do has opened up further opportunities for our students: it's gotten them really prestigious scholarships to medical and graduate school, and once they're there, they've continued to excel. Several of my students have secured their own research funding, and Stephen Woodall '15 was even appointed team leader of a multinational research project involving investigators from 19 countries that aimed to understand how global socioeconomic factors impact access to, and the quality of, surgical healthcare. Research aside, I hear almost weekly from Hampden-Sydney alumni that the small class sizes and advanced course work we offer here really prepared them well for medical and graduate school."
"I really cannot say enough wonderful things about Dr. Hargadon and his lab," says Dr. J. Drake Bishop '14, now in his second year of pediatric residency at the University of Tennessee Health Science Center in Memphis. "Our work in cancer immunology was fulfilling and fruitful, and it led to several poster presentations and publication in a well-respected journal. The project served as the basis for my honors thesis in biology and was awarded the Samuel S. Jones Phi Beta Kappa Award for Intellectual Excellence. This high quality work was instrumental in my acceptance to medical school and residency, and it would not have been possible without the opportunities I was provided in Dr. Hargadon's lab."
After spending three semesters and a summer working in Hargadon's lab, Bushhouse agrees: "I was able to apply the knowledge from my molecular biology coursework to real-world research, developing experience with research methodology, data analysis, and common laboratory techniques—an experience that also honed my writing and communication skills as I applied for state and national grants and presented my work at local, state, national, and international conferences," he recalls.
"Perhaps most importantly, my research in Dr. Hargadon's lab opened doors to scholarships (Goldwater), internships (Cancer Research Summer Internship Program at the University of Michigan), awards (Samuel S. Jones Phi Beta Kappa Prize), and ultimately acceptance into five of the most competitive graduate programs in molecular biology in the world," Bushhouse continues. Now finishing his first year of doctoral studies at Northwestern University, Bushhouse says, "To me, the lasting impact of my time in Hargadon's lab has been the passion for research and experimentation that he instills in his students."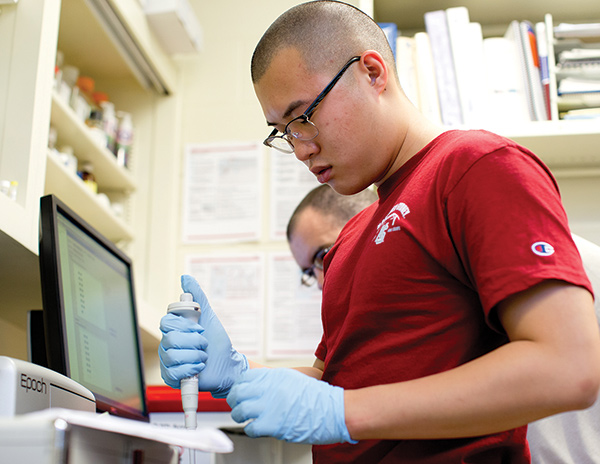 "A highlight of my job is developing relationships with students, then hearing back from them about what they're doing post-Hampden-Sydney," says Hargadon, who beams with pride as he relays a recent update from Bishop, who is currently working on a leukemia research project at St. Jude Children's Research Hospital and plans to sub-specialize in pediatric hematology-oncology after he completes his pediatric residency. "To think that I might have played some small part in Drake Bishop becoming a pediatric oncologist… boy am I a proud papa scientist, seeing that come full circle!" Hargadon says with a chuckle.
Of course, not all of Hargadon's acolytes move into cancer research or treatment—but that's not the point, he claims. "It's fun for me to see how they springboard off what they've done here. If their time with me has excited some scientific interest, that's fulfilling. For example, I don't know if David Bushhouse will pursue cancer research, but he loves genetic research and learning how we can manipulate genes. Where he takes that, Lord knows, but I think he's going to do some really exciting things."
Going for Goldwater
Bushhouse was the second of Hargadon's research fellows to win the prestigious Goldwater Scholarship, joining fellow biology student James Lau '17 as a recipient of the nation's premier undergraduate award in the STEM fields. Lau and Bushhouse are part of a recent spate of Hampden-Sydney science students to receive the distinction of Goldwater Scholar: five Tigers have earned the scholarship over the past seven years, following in the footsteps of Hargadon, H-SC's first Goldwater recipient in 2000. Together, the young men have made Hampden-Sydney the top Goldwater-producing institution in the state of Virginia, averaged per one thousand students.
Hargadon compares the prestige of a Goldwater Scholarship to that of a Rhodes Scholarship. "It's the highest undergrad recognition that you can receive that's a discipline specific honor, and it really writes the ticket for graduate school. For example, David Bushhouse received full scholarship and stipend offers from every graduate school he applied to, and James Lau received a significant scholarship to medical school, which is almost unheard of." And the Goldwater distinction carries weight long after graduate school. "To this day, I'm introduced as a Goldwater Scholar at speaking engagements—some twenty years after the fact," he says.
"For the College to produce five Goldwater Scholars in seven years is quite impressive, and I'm really excited to see how we'll go above and beyond that with improved facilities," Hargadon says, referencing H-SC's upcoming $40 million Pauley Science Center. "My colleagues and I have managed to push past the limitations of an aging building and we've all done some good work here," Hargadon continues, "but the opportunities of a cutting-edge facility, more space, improved technology and equipment—all of that will be key to driving this work to the next level." With work underway on the new science building thanks to a transformational $30 million gift from the Pauley Family Foundation—and plans for the Hinton Baxter Overcash Immersive Biology Laboratory thanks to an anonymous $1 million gift in honor of the late biology professor—opportunities for Hampden-Sydney students and faculty to collaborate on scientific research will only increase.
Those research opportunities are not limited to Hargadon's lab, either; Hampden-Sydney's Goldwater Scholars have been recognized for their research in the fields of chemistry and physics in addition to biology—a testament to the high-level, collaborative work that occurs between Hampden-Sydney students and faculty across the curriculum. And in true Hampden-Sydney fashion, our Goldwater Scholars stand out on campus and on the athletics fields as well as in the classroom. The College's most recent Goldwater Scholar, physics major and Tiger Football offensive lineman Tyler Howerton '21, is an athlete as well as a scholar, just like the College's first Goldwater Scholarship recipient.
A Juggling Act
Those skills that Hargadon honed as a standout Tiger student-athlete are the same skills he now uses to balance the demands of his many roles on the Hill: scholar and scientist, teacher and mentor, department chair and admissions ambassador, devoted alumnus and community leader. And although he says his glory days on the basketball court are long behind him, he finds time to cheer on the Tigers at all manner of H-SC sporting events and even keeps up with a favorite hobby: juggling.
The pace he maintains is steady and grueling. In addition to the regular teaching duties and service work expected of all H-SC faculty members as well as his department-chair responsibilities, Hargadon conducts his own laboratory research, makes frequent individual contributions to academic journals, edits textbooks and research publications, and writes grant proposals to help fund the expense of a cancer research lab—to date, he has brought in over $300,000 to fund research at Hampden-Sydney College.
But Hargadon shrugs off the attention. (In fact, many of the details of his scholarly accomplishments, publications, and service to alma mater were discovered by the author's research rather than Hargadon's admission in interviews.) It's the same humility that prompts him to invite 19-year old students into his personal academic research, to list undergraduate co-authors on his published work, and to invite his lab assistants to stand beside him as fellow presenters at national conferences.
"The story here isn't about me," he claims. "It's about Hampden-Sydney College, about our students, about the kind of work they're able to accomplish here. I'm sure most people don't think 'cancer research' when they think 'Hampden-Sydney.' But for students out there who like science, who hope to go into healthcare, I want them to know that we are doing relevant work here at Hampden-Sydney, work that can get them on a clinical track. I think that's the real story."
Professor Hargadon's H-SC Faculty Profile