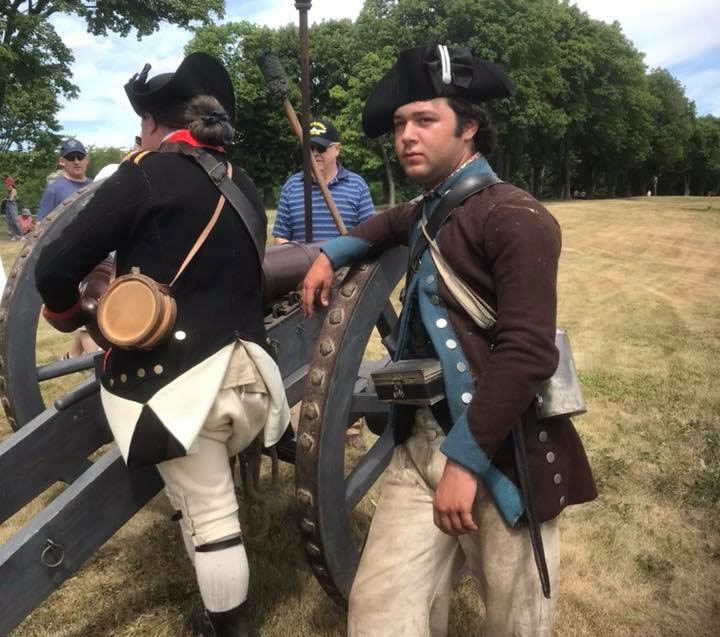 Though Lucas Hamby is only a sophomore, the history major knows exactly what he wants to do. As a matter of fact, he has known since middle school that he wants to be a historical interpreter. He recalls watching a documentary about Valley Forge as a child and thinking, "I want to do that." He has been a living history interpreter ever since.
A native of Winston-Salem, Lucas began volunteering as a Civil War reenactor in 2012, and has since moved on to the Revolutionary War. His interests have taken him to over 25 historical plantations, forts, and battlefields, and about half as many states throughout the country, from Petersburg National Battlefield in Virginia to Fort Ticonderoga in Champlain, New York.
Lucas recently presented his experiences to the Hampden-Sydney community in the Birdsong Atrium of the new Pannill Center for Communications, where he constructed an exhibit in the Center for Public History display case featuring items and photographs of his activities. Among the items was a hand-sewn replica of a Revolutionary War-era jacket that Lucas crafted himself.
Authenticity is key to historical interpretation, and that's why Lucas characterizes his experience working at Fort Ticonderoga, an eighteenth century French fort, as one of the highest caliber living history experiences he has ever had.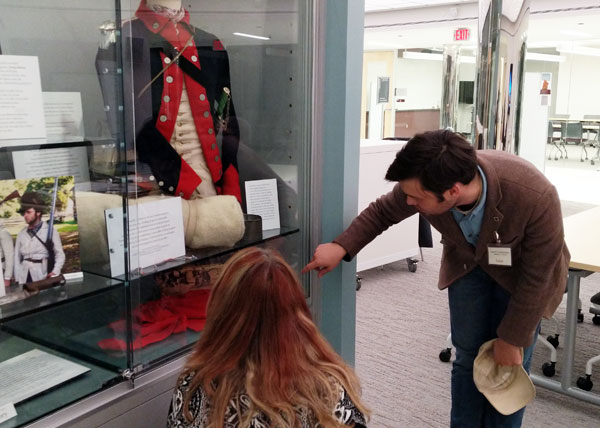 Combining "modern-day safety with eighteenth century accuracy," the historical interpreters at the fort spend their days giving tours, performing musket and cannon demonstrations, cooking food, moving oxen, constructing carts, and perfecting their carpentry skills, all without modern conveniences.
Lucas hopes to someday use his expertise to manage a historic site. He believes living history interpretation—being able to experience the past, firsthand—is the best way to convey historical stories and give the public an accurate picture of what life was like, and he plans to make a career of it. In the future, he sees himself building a flatboat, travelling down the river reenacting the life of a trader, and creating a photo documentary from the experience. For now, though, he just wants to keep perfecting the act of telling the stories of the past.