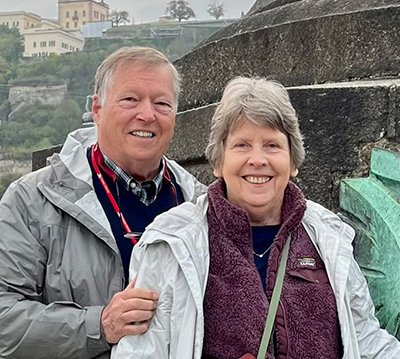 The first trip that Mike Adelman '70 took to Hampden-Sydney was like a scene out of a movie.
"We drove for hours in a torrential rainstorm," recalls Adelman. "Turning onto campus, we entered the gates just as the clouds parted and the rain stopped. As the sun came out, I remember how the grass glistened and the flowers were vibrant and colorful. Even though there wasn't a choir singing, it was still magical."
In addition to a beautiful campus, Hampden-Sydney offered Adelman exactly what he was looking for in a college: a place where he could put down roots. After attending 11 schools by the time he was a senior in high school—his father was in the Navy and traveled the world on submarines—Adelman was seeking stability.
Adelman quickly became involved on campus. He was active in Sigma Nu, where he served as marshal, charged with the pledges' education. He worked for Coach Stokeley Fulton '55 in the athletic department and for Calvin Bass in the chemistry lab; Ned Crawley recruited him into the Glee Club.
"Dr. Crawley asked if I had a tuxedo and told me he looked forward to seeing me at rehearsal," Adelman laughs. "So, of course I joined, and it ended up being a great experience. I got to travel and sing!"
After graduating with degrees in English literature and French, Adelman was certain he would be heading to Vietnam. As it turned out, his draft number was one shy of the last one called. Soon after, Adelman was contacted by Hampden-Sydney's career placement office to see if he was interested in interviewing with Procter & Gamble.
"It was known to be the toughest interview, around 90 minutes," says Adelman. "But I made it through, and they offered me a job." Adelman spent his entire 37-year career with P&G, working in New York; Cincinnati, Ohio; and Fayetteville, Arkansas, retiring as a senior account executive. His wife of 52 years and high school sweetheart, Sallie, a Longwood '70 alumna, is a retired early childhood education administrator. They have two children and three grandchildren and live in Massachusetts.
Adelman has been a faithful supporter of the Hampden-Sydney College Annual Fund, increasing his giving as he was able. When he realized that his cumulative giving was equivalent to a gift that would fund a scholarship, Adelman was motivated to expand his support in an impactful way.
"I was able to attend Hampden-Sydney because of the generosity of others. A foundation in Norfolk provided most of my tuition except for my last semester," he explains. "The trustees expected me to work to contribute 10 percent of the annual fee, but in the end, they gave me the full amount each year so I could 'have an ice cream cone or take a young lady to the movies.'"
Serving others was something Adelman witnessed growing up. "My mother was a caring and giving woman. She would take my siblings and me to visit her 'dear hearts,' older ladies who were homebound. We only stayed about 15 minutes, but we could see how meaningful those visits were, and it resonated with me."
Years later, a trip to visit his daughter and a mission trip with his church would provide inspiration for Adelman's gift to Hampden-Sydney. "Sallie and I took our daughter on a safari while she was in Uganda doing field work for her graduate degree. I was struck by the contrast of the beautiful surroundings and the extreme poverty."
"Later, a group from our church planned a mission trip to Africa, and I offered to pay part of the cost for someone to go. Hearing about their experience, I was compelled to go on the next trip and have been back nine times. We've helped thousands, providing prescriptions and other medical supplies and establishing a well-baby clinic," recalls Adelman.
Continuing, Adelman says: "Hall of Fame baseball player Roberto Clemente said, 'Any time you have an opportunity to make a difference in the world and you don't, then you are wasting your time on Earth.'"
Not one to waste time or the chance to make a difference, Adelman has created an endowment to provide study abroad opportunities for Hampden-Sydney students, preferably in Africa, and particularly in sub-Saharan Africa. "I have begun to fund the endowment annually and then will fully fund in my estate plan," he shares. "Offering these kinds of educational opportunities as well as providing a challenging and dynamic educational atmosphere is what will set Hampden-Sydney apart in the future and attract bright students and outstanding faculty."
"I have a deep affection for Hampden-Sydney," says Adelman. "I'm grateful for the doors it opened for me. I hope this gift will make a difference in the lives of Hampden-Sydney students and, in turn, the world."
---
Your gift supports the Tiger legacy and positions the College for another century of forming good men and good citizens.
For further assistance, please contact:
Office of Gift & Estate Planning
(434) 223-6780
giftplanning@hsc.edu