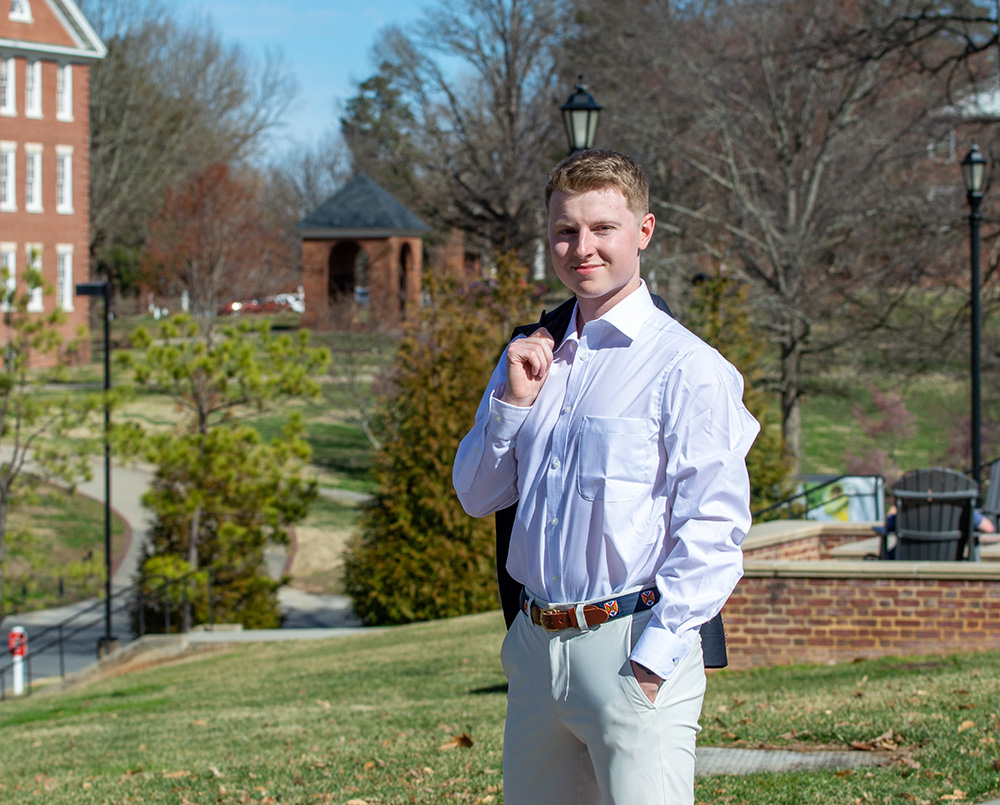 Finding a healthy balance between academics and personal life may be hard for some, but not for Government major Noah Selfe '23. While taking full advantage of what Hampden-Sydney has to offer in and out of the classroom, Noah exemplifies what it means to be a citizen leader and a positive influence on society.
"Prioritize finding a balance," Noah says. "Personal time is very important, but you should also push yourself to see what you are truly capable of. Hampden-Sydney provides you with every resource possible, and the College enables you to become a high-functioning member of society."
Wanting to be a member of a close-knit community that holds its members to a high standard, Hampden-Sydney was a natural fit for Noah. Describing the College as one big brotherhood, he has developed valuable friendships from across campus and proven himself to be a citizen leader—getting involved as rush chairman for Phi Gamma Delta, cabinet executive for Makers Collective, cabinet executive for Rotaract Club, a business developer at the Flemming Center for Entrepreneurship and Innovation, a Ferguson Career Center intern, a summer research student, and a member of the Orientation Staff.
"Hampden-Sydney has helped me develop a stronger sense of direction," Noah says. "I'm thankful to have received an abundance of mentorship that has helped me channel my ambition and develop a better understanding of how I can apply it in the real world."
To this end, Noah took advantage of resources and mentorship offered by the College when he reached out to the Director of the Flemming Center for Entrepreneurship and Innovation Andrew King and established Fail Harder Fitness—along with classmate Harrison Taylor '23—a business that seeks to revolutionize the public's approach to fitness and building healthy habits. The business has already made a name for itself by placing second in the RISE Collaborative Collegiate Business Plan & Pitch Competition and the Tiger's Den Competition, both of which are sponsored by the Flemming Center.
"Dr. King was an instrumental figure in the establishment of Fail Harder Fitness," Noah says. "Throughout the entire process, he mentored and provided valuable insight. His experience and expertise in development and growth strategies proved to be monumental in crafting the company's vision. The company owes a significant debt of gratitude to him."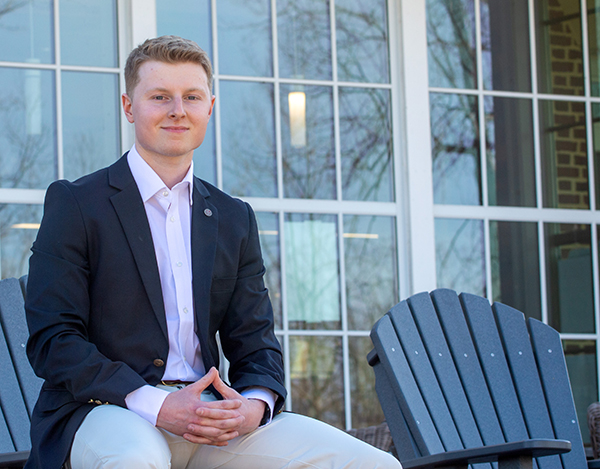 Elliot Professor of Government and Foreign Affairs Roger Barrus has been another notable influence on Noah. While taking Classical Political Philosophy (GVCA 310), which explores philosophical principles stemming from the time of the Ancient Greeks, Noah learned to shape his thinking and apply it outside of class, saying, "One of the core concepts of this course was recognizing your biases and realizing that you are not always right. I have adopted this mindset, and it has served me well when interacting with others."
Noah praises other Hampden-Sydney curricula for building his competence and preparing him for life after graduation. "The Rhetoric Program should not be overlooked," Noah says. "The program has transformed my ability to articulate myself and helped me develop perspicacity in all realms of communication."
Despite his undeniable ambition, Noah truly believes in the importance of balance. To unwind after classes and meetings, he can be found in the Tiger Inn or engaging in fitness, live music, golfing, or spending time with his fraternity brothers.
As graduation approaches, Noah feels confident in his ability to conquer any obstacles that come his way, noting, "I enjoy the quote "Pursue what is meaningful, not what is expedient." Hampden-Sydney has helped develop my ability to persist during times of adversity and add value to the community around me." While preparing to take the LSAT, search for opportunities in the consulting field, and work towards his Juris Doctor degree, Noah is prepared in all ways possible, thanks to the balance of resources at Hampden-Sydney.