This story appeared in The Record, March 2011
"If I had a good hobby , I might have retired some time ago," says Tyler Whitley '59. Certainly some Virginia politicians wish he played golf.
Instead, the lifelong Richmonder has clocked more than 50 years as a reporter, more than 30 of them covering politics for The Richmond Times-Dispatch.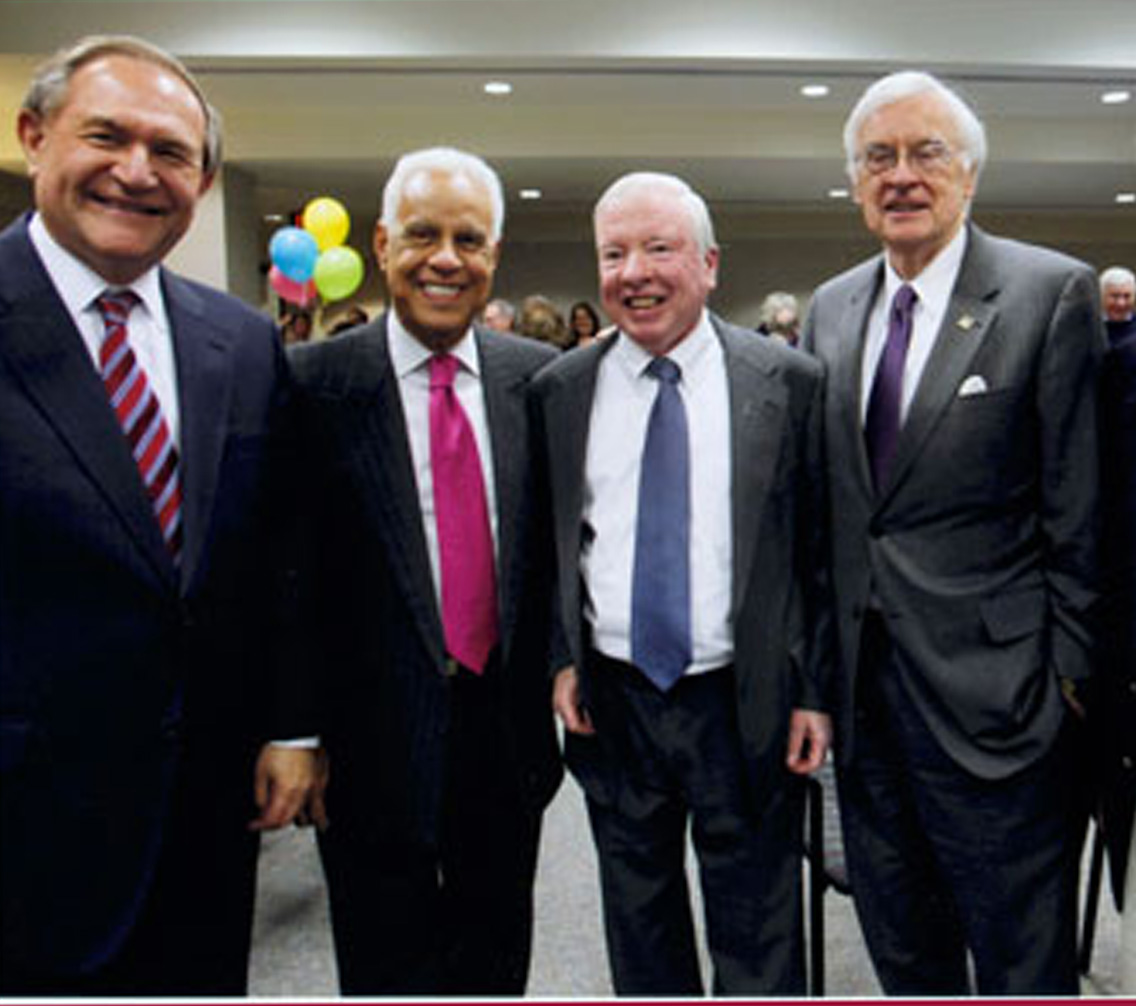 He was the editor of The Tiger at Hampden-Sydney during his senior year but quickly admits that did only a little to prepare him for a career in journalism.
"There wasn't a lot of mentoring, but we found news. We worked for a couple of nights maybe every week. We had to go into Farmville to The Farmville Herald; they printed the paper for us. We got to know Barrye Wall [Class of 1919 and founder of The Tiger] there. That kind of got me interested, but really we were just playing around."
Members of The Tiger staff under Whitley included guys like current Chairman of the Board of Trustees Tom Allen '60, longtime Hampden-Sydney Dean of Students Lewis Drew '60, and legendary professor John Brinkley '59. Whitley says he remembers Brinkley being "smart, very smart," but Whitley was no slouch. He was a member of the honor fraternities Phi Beta Kappa and Eta Sigma Phi, just like Brinkley.
Also on the staff was Don Whitley '59, Tyler's twin brother. They have always been great friends, living together as college roommates for three years and both joining Pi Kappa Alpha. "I'm not surprised that he has been so successful," says Don Whitley of his brother. "He loves his work. He knew what he wanted to do and he just loves it."
After college, Whitley joined the Army for his requisite six-month stint, then returned to Richmond. That's when he learned about an opening at the News Leader.
"I had just gotten out of the Army. I was drinking beer at Philips Continental Lounge one night and this former Hampden-Sydney guy who worked for the News Leader told me there was an opening for an obit writer. He said, 'They're going to want to pay you $75 dollars a week. Ask for $85.' So I asked for $85 and got $80. I came down and passed the spelling test and that was it. I didn't know anything about writing obits or anything; they just had to kind of help me along. I got out of the Army on December 6th and was down here on December 20th. I've been here ever since."
After writing obituaries, Whitley was moved to the business section. "I guess they had a void and they asked me to fill it. I became the business editor and trained some really good people there-Jeanne Cummings, who is with Politico now and used to work for The Wall Street Journal, and Roger Kintzel, who became publisher of The Atlanta Constitution. We had a pretty good shop, though I had nothing to do with it."
The folks running the paper must have seen through his modesty. He was moved over to special assignment before becoming political editor in 1980.
During his career, Whitley has covered 14 national conventions and nine governors, saying, "All of them are a little different and still a little the same, too." He says the highlight of it all was the 1989 gubernatorial race in which Doug Wilder was the first African American elected a state governor in the history of the nation.
According to Whitley, journalism itself has not changed during his career, but the newspaper industry is "threatened."
"People are deserting newspaper reading in droves. Our circulation has plummeted, but the principles of journalism-finding the news, getting to the bottom of it, and writing it-are still the same. The equipment is much better now. Computers are much better than the old typewriters, I guarantee ya."
During his 30 years of covering politics, the players have not changed much either. "I think all politicians are pretty much the same. Most of them are pretty smart people; they're not the dummies that they are sometimes portrayed as. They wouldn't be in politics if they weren't easy to get along with."
Whitley must be pretty easy to get along with, too. He makes a point to keep everything professional. He never has social relationships with politicians and he keeps his personal thoughts to himself. "I don't think I am pro-­Democrat or pro-Republican. I try to keep an even balance."
He says he very seldom gets a call from someone upset about an article, though he did get one during his days as editor of The Tiger. He wrote an editorial calling for the end of spring football practice, because it was taking good athletes away from baseball. Bob Thalman, the head football coach, called up and chewed him out a little.
His memories of Hampden-Sydney are fond; even recalling his phone call from Coach Thalman elicits a chuckle. Like so many of his classmates, though, Whitley says it was Dr. Graves Thompson 1927 who had the greatest influence on his life on The Hill. "Dr. Thompson was a wonderful teacher. I remember particularly well his English Etymology class and his sense of humor. I remember a fellow in class asking him if he believed in reincarnation. Dr. Thompson said, 'Yes. Better luck next time'."
Though Whitley sees the end of his own career approaching, he thinks the newspaper industry will remain. "It will survive, but in a lesser state. I'm probably getting out at a good time. I will probably work for another year of so before I'm done."
The Richmond Times-Dispatch recently celebrated Whitley's 50 years with the company. Now that the tables have turned, and he is the subject of the news, he is ready for his final by-line and considering his options for a really good hobby.