Good Men, Good Citizens, Great Coaches
adapted from The Record, Fall 2017

Every day, Coach Russell Turner '92 carries Hampden-Sydney College's mission "to form good men and good citizens" into the world of Division I athletics, passing on the lessons he learned about honor and excellence as a Hampden-Sydney Tiger some twenty-five years ago. In doing so, he has received national recognition for his character and leadership in collegiate basketball, most recently as a finalist for CollegeInsider.com's 2017 Skip Prosser Man of the Year Award, "presented annually to a Division I head coach who achieves success on the basketball court, while displaying great moral integrity off of the court, as well."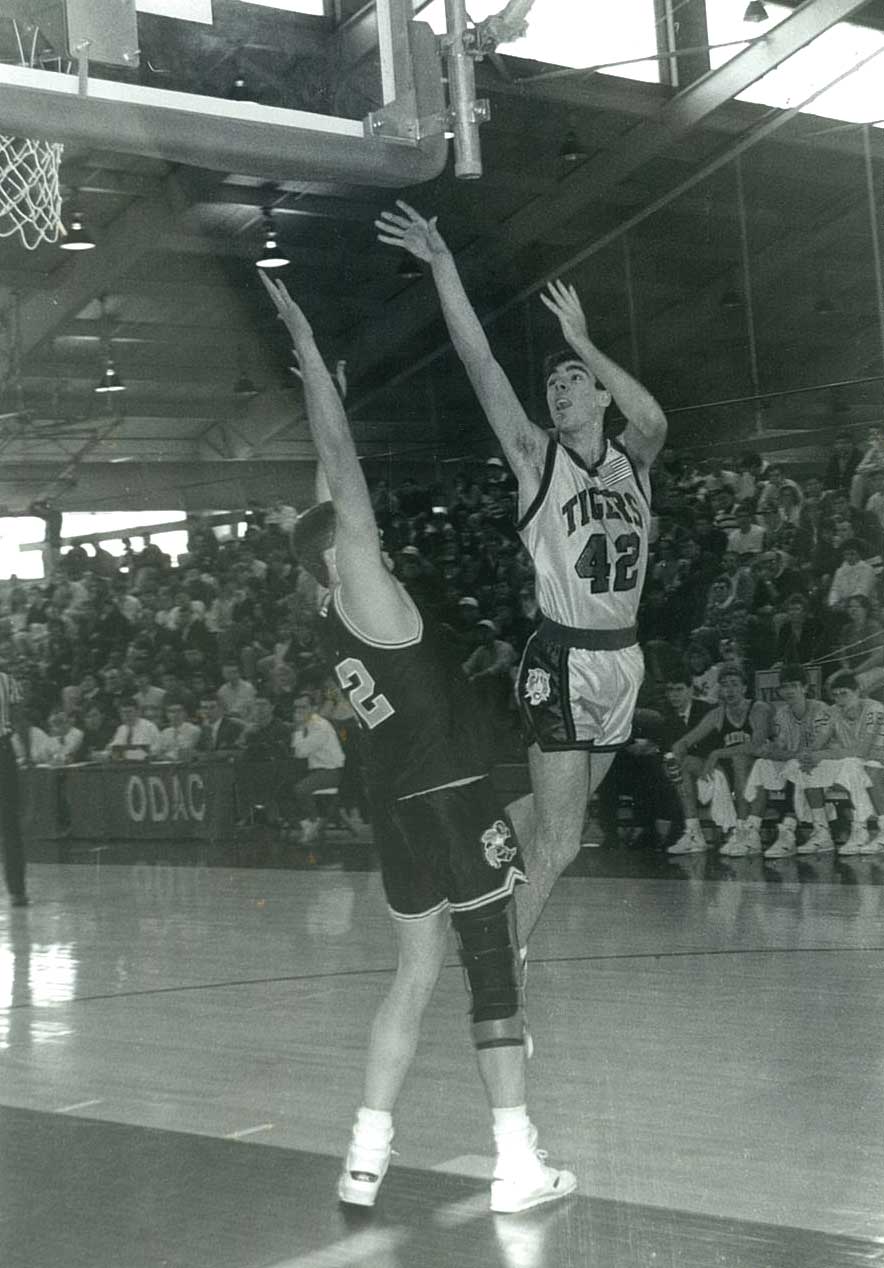 Turner pursued a career in coaching immediately upon graduation from H-SC, a journey that took him to almost every level of competitive basketball: high school, college, and the NBA. Highlights of his career as an assistant coach include six seasons at Wake Forest University, four seasons at Stanford University, and six seasons with the NBA's Golden State Warriors. During that time, he made a total of seven visits to the NCAA Tournament and two appearances in the Elite Eight, as well as two seasons of postseason play in the NBA. Now in his eighth season as head coach at the University of California-Irvine (UCI), Turner was named Big West Conference Coach of the Year in 2014 and led UCI to its first NCAA Tournament appearance in 2015.
On his journey, Turner has worked with incredible talent, including some of the NBA's biggest names. After a year assisting legendary coach Tony Shaver at Hampden-Sydney (where he helped lead the Tigers to the Division III Sweet Sixteen), Turner spent six years under three-time ACC Coach of the Year Dave Odom. With that experience came the opportunity to develop one of the most decorated players to emerge from ACC powerhouse Wake Forest: future NBA-great Tim Duncan. Turner's time with the Golden State Warriors brought a similar opportunity to coach NBA-superstar Stephen Curry. "Not too many people have been lucky enough to work with two guys who have been two-time NBA MVPs," notes Turner. "Tim and Steph are both grounded with values that I admire, and that contributed to them being great teammates and successful people. Both are men of incredible character who have great minds for the game, a passion for basketball, and a focus on improvement."
Turner calls his time in the NBA "the most exhilarating and exciting of my life." He continues, "Coaching at that level was an amazing learning experience. The players are the most driven and committed I've ever seen, and they're appreciative of coaching." He left the NBA to return to collegiate athletics, however, believing that was where he could make a difference. "People ask me, 'What's it like in the big time?' I truly believe the big time is where you are. For me, if it's important enough for young athletes to engage every day, to work to improve, to accomplish something as a team, to work for something that's bigger than the team-that's big time."
Specifically, it was character development that drew Turner back to collegiate sports after his six-year foray into the NBA. He explains, "Mentorship is a huge part of why I do what I do-but the NBA is a business that's entirely about winning. College sports are different; we're coaching guys at the time when their character and leadership qualities are developing. It's fun to help build qualities that will lead to more success, but it's also rewarding to teach guys to be resilient when they face a lack of success. More than wins and losses, what matters to me as a coach is to see improvement in the people I'm working with."
"Setting high expectations to be the best version of yourself you can be, upholding strong values-it's easy to argue that there's not enough of that in the world today," says Turner, who has incorporated aspects of the Hampden-Sydney tradition into his program, specifically the Honor Code. "It's a rather anachronistic idea in 2017, but I can't stress enough the importance of Hampden-Sydney's Honor Code, which I've carried over into my own program. Every week, my players have to sign an honor statement that directs them clearly toward our values. That practice comes directly from my experience at Hampden-Sydney."
Turner says he also uses his Hampden-Sydney education every day in his job as a coach. "There's no disputing that a liberal arts education, with its focus on critical thinking, is valuable," he explains, "but the way Hampden-Sydney presents that education is particularly valuable because of the focus on writing and communication. What I do absolutely requires critical thinking, but the most important skill in my profession is the ability to communicate effectively."
At Hampden-Sydney, Turner was a standout in the classroom as well as on the hardwood: with a double major in Economics and English, he graduated magna cum laude and was inducted into Phi Beta Kappa. "I was just a country kid from Roanoke, so Hampden-Sydney was a tremendous growth experience for me," says Turner. "I had never experienced teachers who could capture my interest enough to sustain high-level performance. The professors at Hampden-Sydney brought subjects to life and engaged my attention, though; that excited me and had an impact on my life." Turner's career has been spent at institutions with strong academic reputations-like Stanford and Wake Forest-which has only increased his appreciation for his own education. "I've often said I would stack my Hampden-Sydney education up against what's available at any school I've worked at, and I've been a part of some pretty good schools," he says with understatement.
Hampden-Sydney alumni often look back at their formative years on the Hill with nostalgia, and Coach Russell Turner no exception. "It's hard to express the amount of appreciation I feel," says Turner. "Hampden-Sydney has been a tremendous part of my journey."