Good Men, Good Citizens, Great Coaches
adapted from The Record, Fall 2017
In the midst of growing scandals that would eventually rock the college basketball world and take down one of the NCAA's most powerful coaches, Ryan Odom '96 received national recognition for his character, leadership, and success in collegiate basketball. Odom, the head basketball coach at the University of Maryland-Baltimore County (UMBC), received the 2017 Joe B. Hall National Coach of the Year Award, presented to the top first-year coach in Division I by CollegInsider.com, and was nominated for the 2017 Skip Prosser Man of the Year Award, presented to a Division I head coach "who achieves success on the basketball court, while displaying great moral integrity off of the court, as well."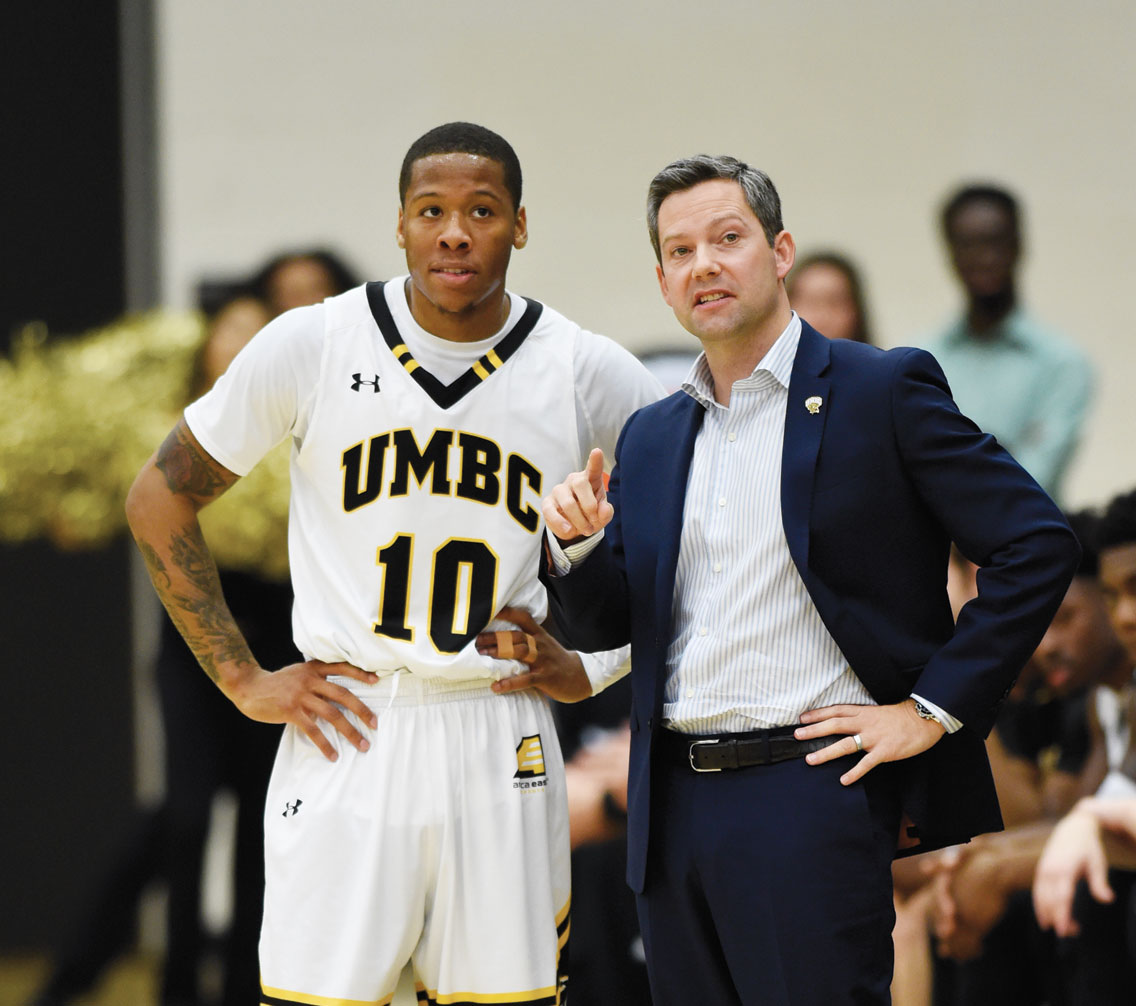 Odom has spent his entire career in collegiate basketball, almost exclusively at Division I universities. Seven years as an assistant coach at Virginia Tech and another five at UNC-Charlotte included two rounds in the NCAA Tournament; in his one year as head coach at Division II Lenoir-Rhyne University, he took the team to the Elite Eight. Now entering his second season at the University of Maryland-Baltimore County, Odom led UMBC to the first three postseason wins in school history at the CIT Tournament.
For Odom, the initial draw to a graduate assistant job with the University of South Florida's basketball team was a chance to remain connected to the game he loves. "I wasn't ready to give the game up when my time playing at Hampden-Sydney was done," he says. And as the son of a now-retired basketball coaching legend, three-time ACC Coach of the Year Dave Odom, he was familiar with the profession. What began as a way to extend his time on the court quickly morphed into a calling, though. Odom explains, "First I loved seeing the other side of the game, then I began to understand the impact coaches can have on these kids at a meaningful time in their lives. That's not something I take lightly, and that's why I'm still coaching today."
At UMBC, Odom is committed to building a values-based program. "Competitive sports are a great teacher: our players learn to work well with others, contribute to an overall team, practice humility, and deal with adversity," he says. "We attack one of our six core values in practice each day-thankfulness, humility, servanthood, passion, accountability, and unity-and we as coaches try to model those values for our student-athletes and live them out in our daily lives." This approach has led to success on the court, with UMBC earning the second-most wins in school history during Odom's first season as head coach.
But a winning record only matters if it has been achieved the right way. "Your character defines who you are, and you can't be willing to sacrifice your integrity for short term gains," Odom says. Talking about recent allegations of corruption and bribery in NCAA basketball, he notes, "I'm in this profession to mentor kids so they're ready for life after basketball, but unfortunately not everybody is. Like any profession, there are people of integrity who do things the right way, and there are others who don't." Odom continues, "We need to band together as a coaching profession to make sure we're all in it for the right reasons, because we're in charge of these kids at a time in their lives when we can really make a positive-or negative-impact."
Asked how relevant his Hampden-Sydney education is to his coaching career, Odom responds without hesitation: "Do I use it every day? Absolutely." He explains, "The discipline that it takes to earn a college degree-to be on top of things, to be organized, to do it every day-shapes who you become later on. At Hampden-Sydney, I was challenged off the court academically and on the court athletically, which gave me the discipline and focus that I needed to be successful." Odom applies that discipline and focus as he juggles the demands of a head coach: mentoring and developing players, managing a coaching staff, building a team culture-all while travelling near and far for competition and recruiting.
He also appreciates the College's rhetoric program, which he puts into daily use, as well. "Not a lot of colleges or universities have a program like Hampden-Sydney's to teach students how to write and speak well, yet those skills are so important in the professional world," Odom says. "As a coach, I communicate every day with players, boosters, university administration, and the press-and I can't risk being misunderstood or sending the wrong message. Hampden-Sydney students may not enjoy the rhetoric exam, but there's no doubt the program teaches them to communicate effectively and helps them after graduation."
Reminiscing about his time on the Hill, Odom says, "I'm appreciative of the time and energy that the Hampden-Sydney community invested in me: the professors were caring, the coaches were influential, and the friendships are lifelong. I loved every second of my time at Hampden-Sydney."
Odom's success as a coach speaks to the power of Hampden-Sydney education; his commitment to personal integrity and character development is proof that the College's enduring mission to "form good men and good citizens" continues to spread far beyond our gates-even on the hardwood.