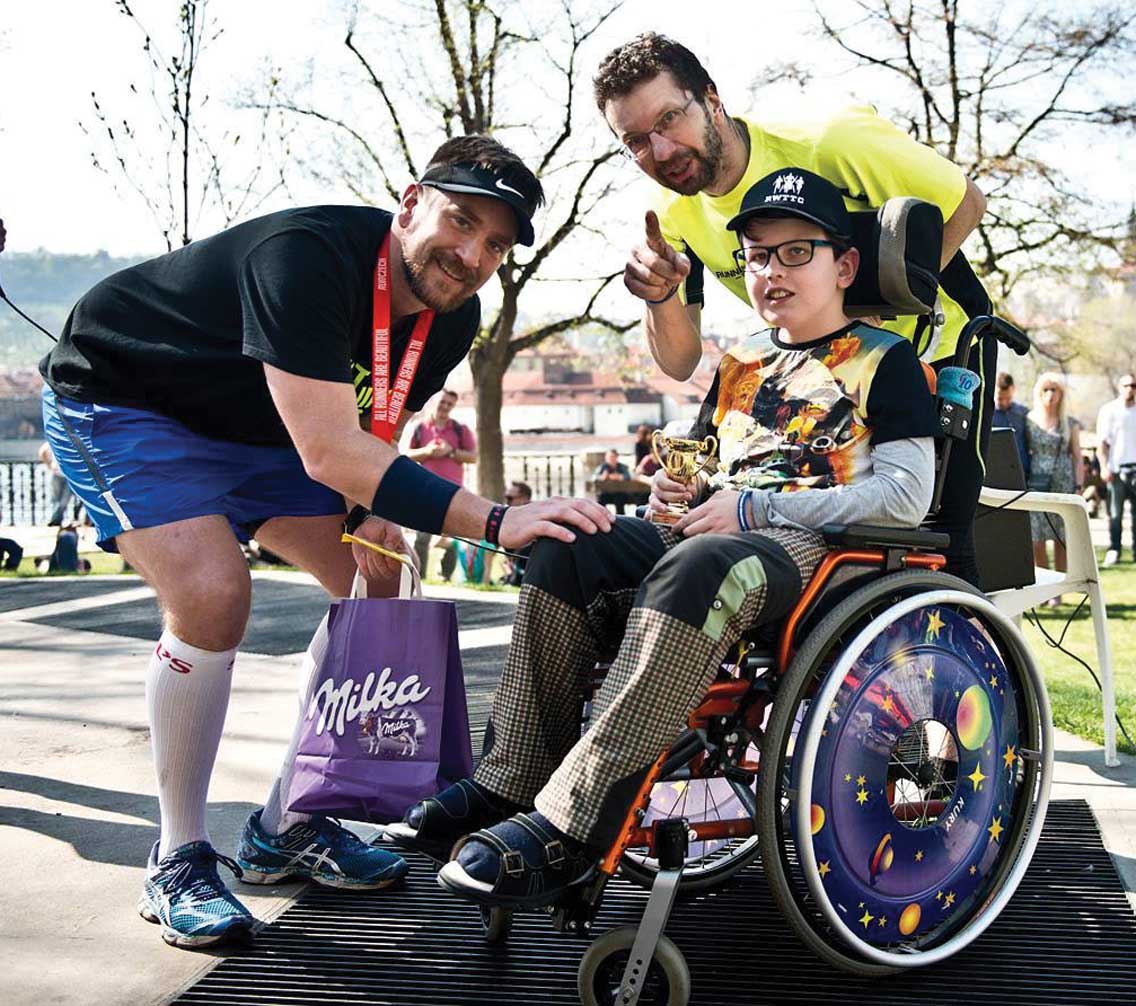 Philanthropy is defined as giving gifts of "time, talent and treasure" to help make life better for other people. Time and again, Scott's life is the definition of this virtue, and Hampden-Sydney is pleased to have shared two stories about Scott's ventures over the years.
The Road Less Run
From The Record, April 2018
Now, Keel and his efforts are the subject of an upcoming feature-length documentary, The Road Less Run, which tells the story of Keel's friendship with a young Czech man living with cerebral palsy; together, they have run in dozens of races with Running With Those That Can't (RWTTC), the charity Keel founded in 2009 while he was a medical student in Prague. RWTTC gives individuals with physical, intellectual, and developmental disabilities the opportunity to participate in races by providing them with an adaptive stroller and a team of runners to support them. In doing so, RWTTC raises awareness of the challenges this population faces and increases their acceptance and inclusion in society.
Keel hopes the film will spread the charity's mission of inclusion by inspiring others to start similar groups in their own communities. He explains, "From the beginning, we tried to involve people from all over the globe in our races in Prague, to inspire them to go home and recreate the mission in their own way. We wanted to spread an idea, not an organization." And the idea has spread, both in Europe with events in Germany, Austria, and the United Kingdom, as well as in the United States, thanks to his Hampden-Sydney brothers. A chance meeting with Keel at an H-SC alumni event in 2010 inspired Bryan Mangas '06 to found Inclusive Racing, the non-profit that broke down the barriers for wheelchairs in the Richmond Marathon. Dr. Trey White '93 is also passionate about inclusion; as the founder and director of Team Hoyt VB, White helped bring inclusive racing to Virginia Beach in 2006.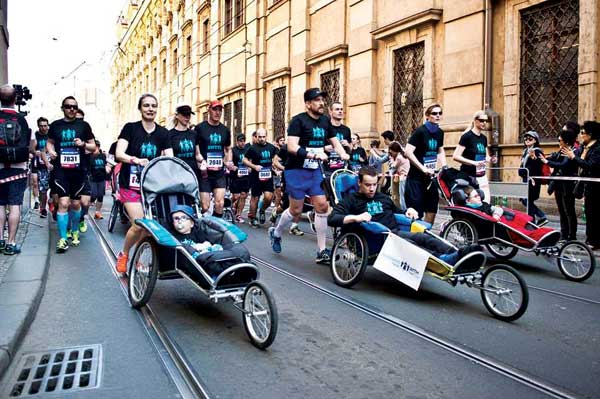 In fact, Keel says his time at Hampden-Sydney and the close relationships student enjoy with faculty and administration gave him the confidence to start the charity. "Because General Sam Wilson and Dr. Walter Bortz interacted with us so much, we were used to talking with people at the top of an organization," says Keel. "When I wanted to start an inclusive-racing charity overseas, it felt natural to seek help from the dean of the medical school and the mayor of Prague." The medical school donated the first two specialty strollers so disabled athletes could participate in the Prague International Marathon, and its faculty and students continue the charity's work—donating 14 wheelchairs in 2017—now that Keel has returned to the U.S. for his residency.
The path to a medical career was not direct for Keel. After he graduated from H-SC with an economics degree, Keel's passion for travel took him abroad for nearly 15 years. He lived in the Czech Republic for a decade teaching English, founding a crystal stemware company, and eventually attending medical school at Prague's historic Charles University. In between, he took humanitarian jaunts around the world—including to Thailand after the 2004 tsunami and New Orleans after Hurricane Katrina—and even competed in the Monkey Run, a 3,000-mile motorbike race through the jungles and deserts of Peru.
---
"We all have compassion in us; we just need to take the time to give it away rather than keep it to ourselves."
~Scott Keel '02
---
Keel says all of those experiences taught him about the necessity of human connection and the power of human compassion. "We all have compassion in us," says Keel, "we just need to take the time to give it away rather than keep it to ourselves." Whether it was helping international students from all over Europe connect with each other at medical school in Prague or working to integrate mental health services into pediatric care after returning to Richmond two years ago, Keel's efforts to connect with others have drawn attention. In 2013, he was awarded a national Czech philanthropic award as well as a service award from the Czech Parliament. And in 2017 he was named one of Richmond's "Top 40 Under 40" by Style Weekly for his pilot program mandating suicide questionnaires in the pediatric setting.
Now he's pouring the same energy into his medical residency in pediatrics at Roanoke's Carilion Memorial Hospital. "All my experiences—everything I've learned by traveling, founding a charity, and living in other cultures—applies to my work as a doctor. We have to be culturally sensitive, exercise compassion, and have a burning desire to make a change while we use evidence-based medicine to make a difference in people's lives," Keel explains. "I love what I'm doing."
To watch the trailer for the documentary film The Road Less Run, visit roadlessrunfilm.com.
---
I Am RVA
From The Record, January 2016
On December 7, 2015, Richmond Magazine declared that the capital city had just lived "in the year of the bicycle." This past September, Richmond hosted the UCI Road World Championships, a nine-day international competition between the world's fastest national cycling teams, and the city is currently investing millions of dollars in the construction of more cycling infrastructure, such as paths and bike lanes, to support the burgeoning interest in the two-wheeled conveyance.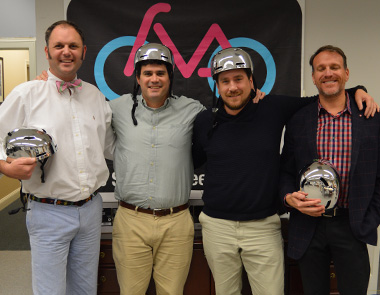 In the thick of this urban movement is pediatrician Dr. Scott Keel '02, who gathered five other Hampden-Sydney alumni to create I Am RVA, a non-profit charitable and educational organizationthat sells distinct and readily identifiable bicycle helmets to participants. Proceeds from the sales are funneled directly to local charities. Keel, Dr. Benjamin Gates '01, "Sir" Charley Gates '04, "The Honorable" George Cumming '89, Whitworth "Archbishop aka The Chief" Brooks '01, and Adam Stockton '99 sit on the board."
It's a bunch of Hampden-Sydney guys who got together with two or three outside board members to promote cycling, safety, and enthusiasm for the cycling culture, trying to help people lead healthier lifestyles-'be safe, be seen, and have fun'-that's our motto," said Keel. They rent out a business office near the University of Richmond-"the global headquarters" they call it-to meet up after work and plot their next strategies. Strewn about among their charts and pamphlets are piles of merchandise, oversized paddleballs, and other random trifles.
"We need a Ritalin prescription for the ADD,"joked Brooks.
In 2014, Keel sent an email to his buddies from the Hill. They had their first meeting in February 2015, and they spent the past year organizing and finding business partners and sponsors, filing paperwork to become a 501(c)(3), and building an online presence. They're bringing together their Hampden-Sydney backgrounds, their sense of community and charity and good citizenship, and pairing it with the business and entrepreneurial skills they acquired on the Hill. This past September they secured their first shipment of the 300 chrome helmets, and they were sold out within a couple of weeks.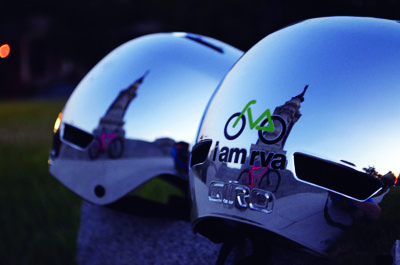 "It's a symbol of pride," Keel said of the helmets. "It's literally a reflection of who we surround ourselves with, are flection of where we are a sign of unity. But we're also big on safety. Everybody can see them. Sometimes the sun is setting, people have cataracts, and cell phones can be distracting. In Virginia we're not required to wear helmets, and we don't want to force people to wear them. That's why we worked so hard to make them stylish and make them part of the movement. We're trying to create the right incentives: a cool helmet found only in Richmond; supporting local non-profits; and discounts for members at local businesses." The helmet comes with a key chain mini-card that is accepted at more than 250 participating businesses.
The Hampden-Sydney cadre is expanding the movement. Three months into the launch they have more than 1,000 "Likes" on Facebook, and they are aiming for 5,000 by mid-2016. They're adding riders to their roster of volunteers, who will help with sign-ups, selling T-shirts, and spreading bike safety information at races and other community events. They're also working with Virginia Commonwealth University (VCU), which has produced market analysis studies that support their business model.
Right now the group is continuing the search for more corporate sponsors in the Richmond area, in the biking community, and among Hampden-Sydney alumni. With more sponsors they can acquire the helmets more cheaply so that more money goes toward the greater good of the community. Although they've only just gotten started, already they've donated two micro-grants of $1,000 apiece to those who have suffered traumatic brain injuries. The money will go toward improving assisted living, handicap ramps, and rehabilitation services that can cause severe financial burdens on families. It's all been a major undertaking.
As Keel concluded, "Having a group of guys who had Hampden-Sydney values instilled in them is what has made this happen."