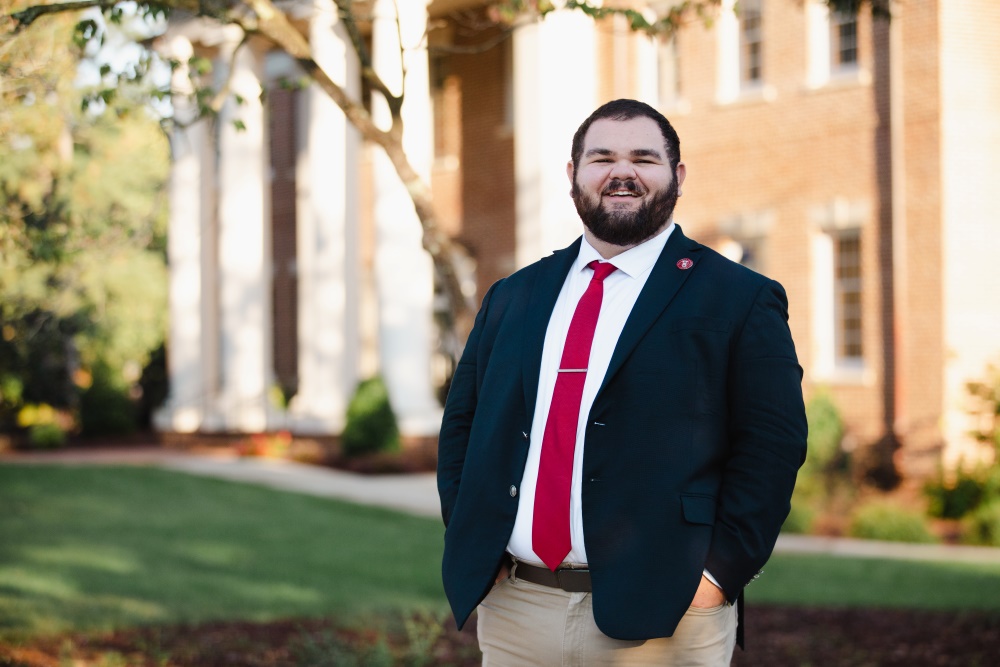 Transitioning to the college world can be daunting for many students, but for Scott Teachey '24, Hampden-Sydney is everything he imagined and more.
"Hampden-Sydney is like a massive family encouraging and helping each other to create the best versions of themselves," Scott says. "One of the things I love the most about Hampden-Sydney is that you can ask anyone for help, and they will find a way to assist you."
Speaking of family, Hampden-Sydney runs in the Teachey family, with Scott's uncle Brian Teachey '02 and great-uncle Herbert Teachey '01 introducing Scott to the College. Grateful for his unwavering wisdom and support, Scott credits his uncle and great-uncle for setting him on the path to success both as a scholar and a Hampden-Sydney man.
While on the Hill, Scott has cultivated meaningful friendships through his joyful demeanor and willingness to assist others. Although he is often found in the Brown Student Center enjoying the company of the friendly staff and getting to know his fellow students, he is actively involved around campus as a Wilson Leadership Fellow, member of the President's Men, member of the Garnet and Grey Society, member of the College Republicans, member of the Alexander Hamilton Society, Airsoft Club president, College Food Committee president, treasurer and media relations officer of the Student Senate, member of the Finance Board, Head Orientation service leader, Office of Admission student intern, Office of Student Affairs intern, and a resident advisor.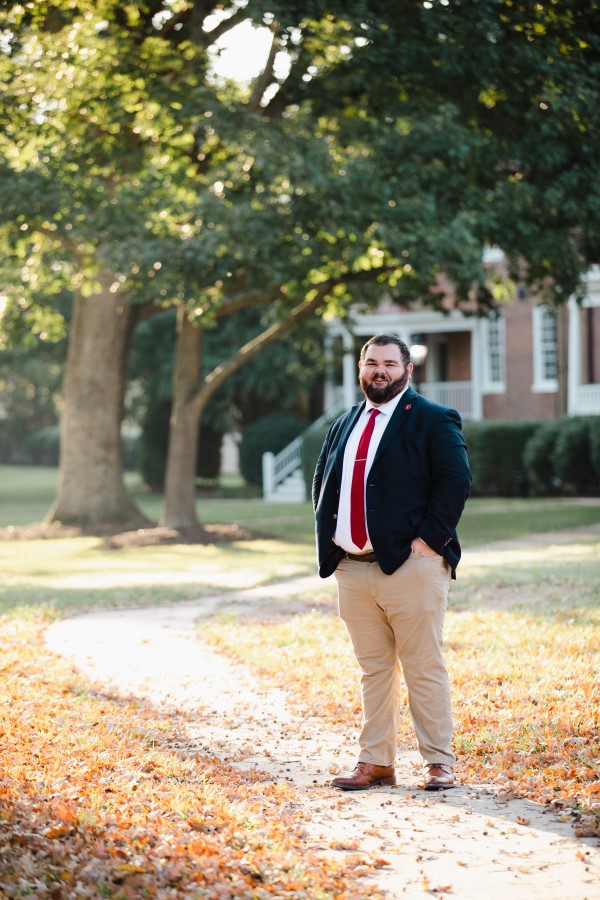 Scott believes that Hampden-Sydney has instilled in him a solid foundation of values that will guide him as a responsible member of society. "I've learned how to be an effective leader, a gentleman, a superb student, a critical thinker, and a strong communicator," Scott says. "In essence, the College has provided me with a firm foundation upon which to build my career, values, and eventual family."
This foundation of values has been supported by the many caring and attentive faculty members. One such faculty member is Professor of Economics and Business Anthony Carilli, whom Scott credits for establishing his own precedent of what is expected of a Hampden-Sydney student: punctual, prepared, and eager to learn.
Scott has worked to advance as a scholar and benefit from difficult yet intriguing courses that could help him throughout his life — a goal that his fellow students inspire and encourage him to accomplish each day. "Hampden-Sydney students take their education and personal advancement seriously," Scott says. "The lifestyle of a Hampden-Sydney man is an efficient balance of leisure and rigor, mindful preparation for individual and community success, and goal-driven with powerful results."
Although a determined student who seeks the most from his academic pursuits, Scott also emphasizes the importance of maintaining personal health by wisely managing time and finding moments to rest and reflect on experiences.
Scott's love for Hampden-Sydney may keep him on the Hill after he graduates next spring, as he aspires to work for the College and contribute to the lives of generations of future Tigers. Brightened by the positive impact that the administration has made in his own life, Scott hopes to pay it forward by passing on the values and spirit that make the College a cherished community for many.