From The Record, Spring 2016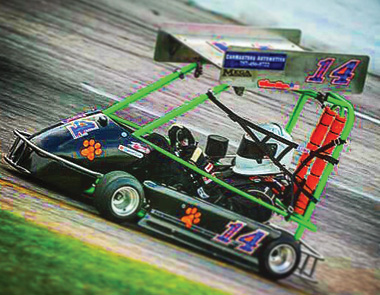 On Christmas morning, when Tillman Heuer '15 was seven years old, he woke up to find out his dad had bought him a 1998 Laser AV-1 go-kart. It was a fitting present to go with Tillman's love of NASCAR, a sport the H-SC alumnus had been watching "for as long as I can remember," he said.
The Virginia Beach native was so imbued with his passion for racing that he joined the Hampton Roads Kart Club at Langley Speedway when he was just 12 years old. From there, Tillman didn't just race-he won, pushing his kart and himself to the limits to capture more than 70 heat and feature wins and three championships by the time he was 16 years old. With his father always by his side, Tillman travelled up and down the Eastern Seaboard with his foot on the pedal and his hands on the wheel.
"It's being in control of a car that's on the verge of being out-of-control," he said. "It's being at the events and at the race track, around the people, and around the fans-being with my dad, because we've always been together on the weekends doing it. It's the sounds, the smells, all of it-everything that comes with racing, not just my being on the track."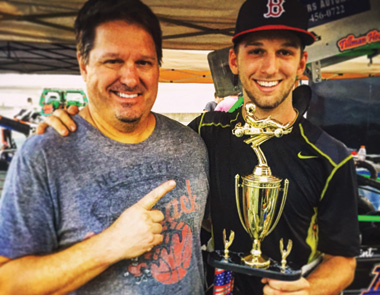 While at Hampden-Sydney the economics major had little time for racing and instead spent his time focused on his studies and playing football. He went to the gym and played intramural basketball as well, but not without remembering his time on the track. After graduation last year he returned to Virginia Beach, began working for Enterprise Rent-A-Car, and started racing again.
He moved into winged kart racing, competing in the Rhonda Claiborne Winged Champ Kart Series, which toured at Langley Speedway, South Boston Speedway, and Southern National Motorsports Park in Kenly, North Carolina. He earned the 2015 Rookie of the Year with 11 starts, one win, four top-fives, and eight top-tens. He also got into stock-based enduro-class racing in 2015, during which he drove a five-speed V-6 2002 Ford Contour in the Bojangles Enduro Division at Langley Speedway.
Because he started in only three enduro races last year, he still qualifies as a rookie for the 2016 season. "I'm going to race full-time in the enduro series as well as the Winged Champ series," he said. "We're going to be racing for the championships in both, and I'll be working toward being Rookie of the Year for enduro as well. We're going for wins. We want to finish up front."
Tillman wanted to make sure everyone at Hampden-Sydney knows how much they've helped him both professionally and personally. "I want to thank Hampden-Sydney for preparing me for what I've been accomplishing. Hampden-Sydney taught me how to work hard. It taught me how to use the tools I need to be successful in whatever I do both on the track and in my career."