From The Record, Winter 2017
Arts and the Purpose-Driven Life
It's not often that a college student calls an evening lecture "life-altering," but those are the exact words Jacky Cheng '16 use to describe the "Arts and the Purpose-Driven Life" seminar presented by alumnus Toby Usnik '85. At the invitation of the Department of Fine Arts, Usnik returned to campus in early October, connecting with students and faculty interested in the arts, communications, and philanthropy. Usnik's career in public relations has included positions at some of the world's most iconic corporations, including Christie's International, the New York Times Company, and American Express. After ten years at Christie's, most recently as Chief Corporate Social Responsibility Officer, Usnik founded the global advisory firm Philanthropic Impact, committed to building a shared sense of community between businesses and philanthropic groups.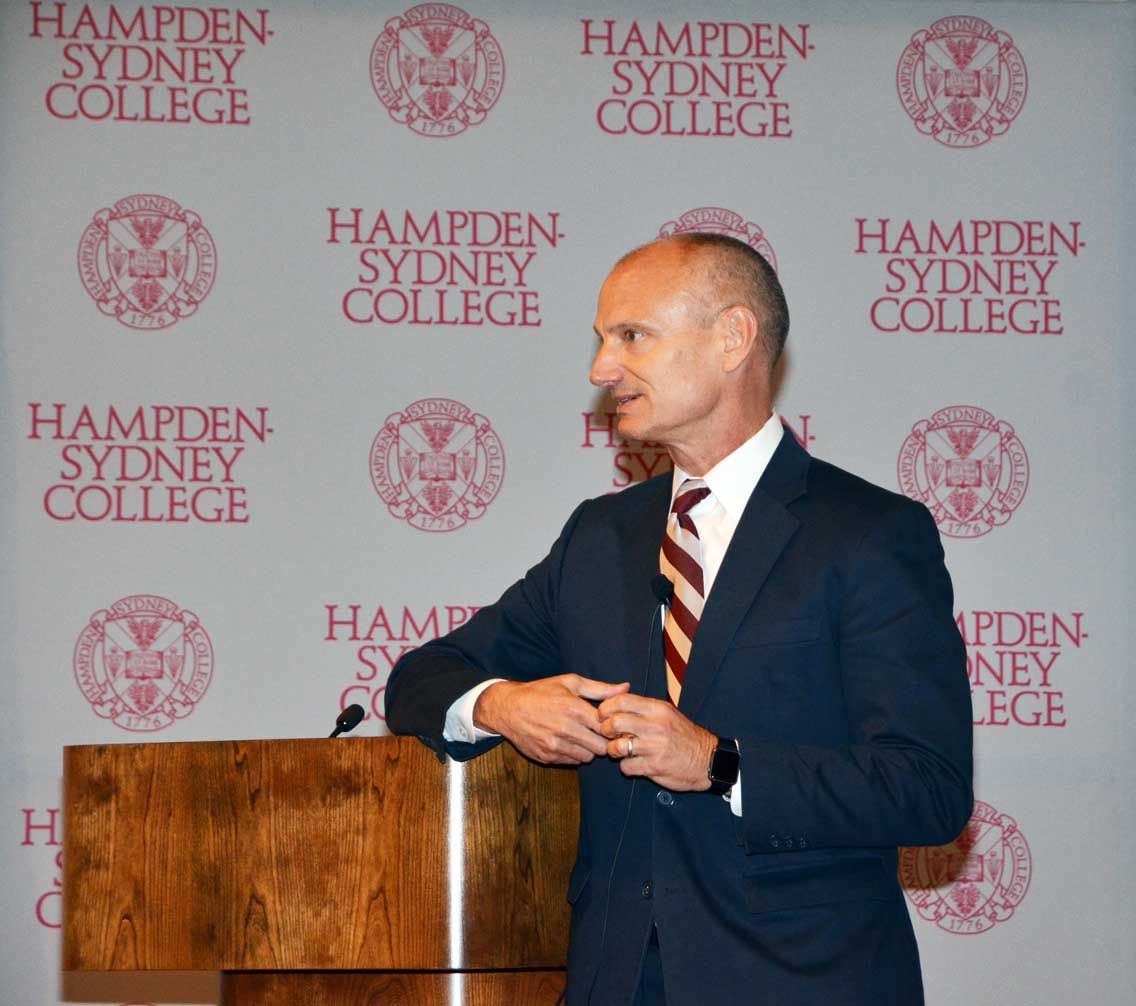 Over 100 students, faculty, and staff attended Usnik's evening talk, where he shared advice on pursuing a fulfilling career, building a personal brand, and networking effectively. Usnik used his own professional journey as a living example, encouraging those in attendance to define their own paths, however unconventional. In order to do so, he recommended writing regularly about career goals and strategies, collaborating with others for higher impact, networking in person as well as digitally, and meditating or exercising daily. Lastly, he strongly encouraged students to take full advantage of the tools Hampden-Sydney offers, especially studying abroad, volunteering, and participating in clubs and athletics.
While on campus, Usnik also met one-on-one with students, visited fine arts classes, and met with administration about increasing H-SC internship opportunities in New York City. He has since remained in contact with several students, including Jacky, who was tasked with picking Usnik up from the Richmond airport. "I knew he was an important guy," says Jacky, "so I expected him to be busy on his phone the entire ride." Instead, Usnik spent the bulk of the drive conversing with Jacky about their Hampden-Sydney stories.
Among their many shared interests and experiences, including living in New York City and China, they discovered a mutual desire to give back to their communities. Jacky says he had been seeking the best way to make a positive impact on his community, and Usnik gave him new insight into "the art of giving back and the role of socially responsible companies." The junior economics major has begun planning a career that will positively impact his surrounding community, and he has new insight about living a purposeful life, thanks to Usnik's visit.
Usnik's talk was part of the Office of Career Education's "Tiger Tracks Live" series, which brings alumni from a variety of fields back to campus to share their career experiences and advice with students.