He spent two months of his summer—along with 60 other interns from across the country—in Jacksonville, Florida, conducting research under the supervision of Mayo Clinic specialists while honing his career interests and goals.
"Alex has exemplary intellectual curiosity—so much that he initially had a tough time narrowing his school and career options," says Trinkle Professor of Biology Alex Werth. "It's been fun to serve as his academic advisor since the beginning, because he is interested in everything. He's the sort of student who would have ten different majors if he could." Werth added that Alex is unafraid to ask questions or dive into his work, undoubtedly an attractive asset for pursuing a medical career, not to mention his good humor and genuine interest in helping others. His internship, says Werth, "has cemented his desire to keep pursuing a career in medicine. It was a great fit for Alex and for the internship program."
We talked to Alex about his time at the Mayo Clinic and his experience as a student at H-SC. Here is our conversation:
Tell us what did you do while at the Mayo Clinic.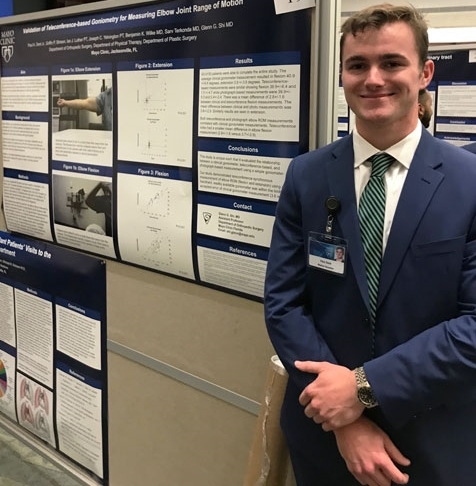 I conducted research under the supervision of an Orthopaedic Surgeon, Dr. Glenn Shi, to determine if appointments by teleconference would allow us to record patients' information as accurately as in the clinical setting. Using web-cam technology to send images and take measurements, we proved that our hypothesis was correct. We hope it will help in the effort to close the health care gap by allowing patients easier access to physicians and eliminating travel expenses to the clinic.
I also worked with allergist Dr. Alexei Gonzales, researching a case study regarding a patient's reaction to aspirin.
Did you have any opportunities to present your research?
At the end of the internship, I presented our findings in front of physicians and the other interns at the Mayo Clinic. My research with Dr. Shi is pending publishing in the Journal of Orthopaedic Surgery.
In November, I will present the results from the allergy case study with Dr. Gonzales at the American College of Allergy, Asthma, and Immunology (ACAAI) Conference in Houston.
It's interesting that you're majoring in physics since you want to study medicine. What are your career goals?
After I graduate, I hope to either attend medical school through the Navy as a non-combatant or enter a graduate program for medical physics.
I am seeking a non-traditional medical route, though, because I am interested in the field of medical physics, where I would work with physicians to develop medical hardware.
How did you choose H-SC?
I had actually planned to attend the Naval Academy. But I had heard about Hampden-Sydney from a friend whose dad was an alumnus. So, on a whim, I stopped at H-SC on the way home from a trip to visit the Naval Academy. I took a tour of campus and sat in on some classes, and I just loved it here—the atmosphere, the history and campus, and the small classrooms. I changed my mind, and I came to Hampden-Sydney.
Where is your favorite place to study on campus?
I spend a lot of time in the Bortz Library. I like to find little nooks on the second floor with comfortable couches or use the study rooms with my friends. Now that the new Pannill Center for Rhetoric and Communications is open, I'll probably spend time there, too.
Incidentally, the Bortz Library was just ranked the 5th best college library by the Princeton Review, so there is no surprise that Alex finds it a perfect environment to get his work done.
What do you do in your spare time?
I am a member of the Club Rugby team. I never played rugby until I got here, but I was always interested in the sport, so I went out for the team my freshman year and loved it. My position is the "8-man"—I am normally found in the back of the scrums.
I am also a brother in the Pi Kappa Alpha fraternity.
Hampden-Sydney talks a lot about brotherhood. What does it mean to you?
It really feels like people look out for each other here, both when they're doing well and when they need a helping hand. And it extends beyond classmates to the alumni. After graduation, your connections are really helpful to your career and to your life.
Rugby photo courtesy of Theresa Carriveau