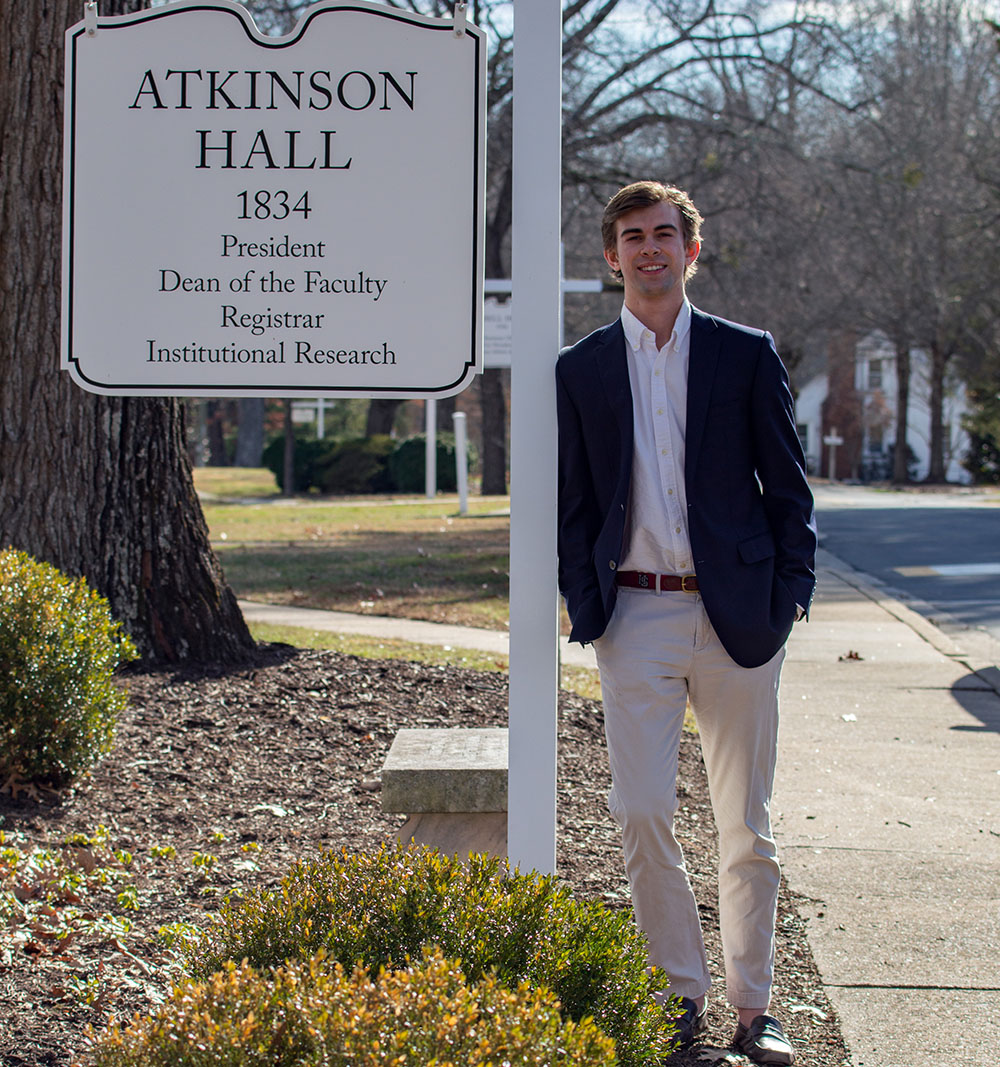 In-depth academics, rigorous research, internships, and life-changing experiences are some ways that college prepares students for success. But for government major Andrew Parker '23, Hampden-Sydney has done more than prepare him for success in his career, it has provided him with the necessary skills to succeed in life.
"To be prepared in life, one must be responsible, a critical thinker, and knowledgeable," Andrew says. "Hampden-Sydney demands these skills from students, which prepares students for life after graduation."
Hampden-Sydney's academic variety, lively social environment, and strong alumni network have contributed to Andrew's success and development of these skills. These characteristics are also why Andrew chose to attend Hampden-Sydney and get involved as assistant to the president, the general manager of the Hampden-Sydney TigerFund, a brother of Chi Phi fraternity, a member of the Ethics Bowl Team, and a Wilson Leadership fellow.
While heavily involved around campus, Andrew gives a lot of credit to his professors for helping to improve his critical thinking skills, advising that students "take courses with great professors and stay with them. Use this once-in-a-lifetime opportunity to learn the classics, learn about the natural world, and improve your critical thinking skills to be confident in your worldview." Andrew went on to praise his Introduction to World Politics course with Associate Professor of Government and Foreign Affairs Warner Winborne as a course that strengthened his critical thinking skills by teaching him about paradigm shifts in thought and how to analyze complex adaptive environments accounting for different foundational viewpoints.
"I have learned to love the liberal arts program as it combines a wide variety of subjects and academic freedom within courses to succeed and mature," Andrew says. "Spanish was one of the most challenging courses for me. I found it difficult to operate and think in a different language, and the skillset I needed to succeed was hard to come by, but because of Spanish, I realized success can be achieved in any courses. It is all about how much time and effort you put in."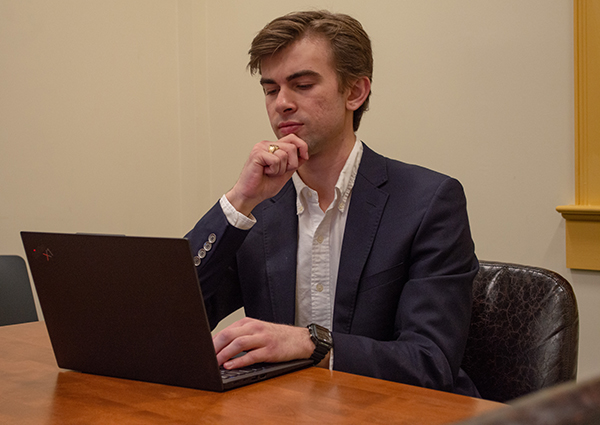 Professor of Government and Foreign Affairs Roger Barrus, Assistant Professor of Government and Foreign Affairs Christopher McMillion, and Elliot Professor of Economics and Business Gregory Dempster have been other notable influences on Andrew, who praised them for their strength in teaching.
Andrew has found ways to balance the demands of his coursework with the social offerings at Hampden-Sydney, spending time with his friends, running on the Wilson Trail, and eating dinner at Pannill Commons with his fraternity brothers, which he notes has become a tradition in his fraternity.
Thanks to his dedication in the classroom and initiative taken in his extracurricular activities, there is no doubt that Andrew is prepared for life after graduation. He will be moving to Charlotte, North Carolina, to begin a career in capital markets and banking. Andrew noted that former TigerFund manager Jack Voelker '17 was instrumental in helping him begin this new journey. Andrew will cherish his last few months on the Hill as he looks toward the future, noting, "The memories that I have made and the skills that I have learned here will be with me for the rest of my life."