This story appeared in The Record, September 2010
The hills of Coverly Plantation roll gently across the Amelia County piedmont from the 1835 farmhouse to the junction of Flat Creek and the Appomattox River. When he first came here in 2006, Demas Boudreaux '02 knew it was a special place, a place that might one day be the site of something special.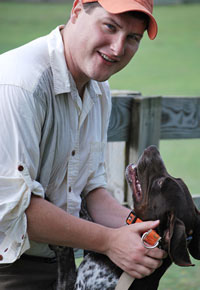 Some four years later, Boudreaux is beginning his sophomore year as proprietor of Commonwealth Birding, a private quail hunting preserve and clothing line.
"I started thinking about what I could do professionally that really matters to me," says Boudreaux. "When I considered what matters to me most, I thought about spending time with friends, hunting, dogs, the Virginia countryside, and maybe sipping a little Bourbon, too. When you put those things in a pot and stir it up, this is what you get. People who know me would agree, I think, that hospitality is very important to me, so Commonwealth Birding is more than a hunting preserve; it is a complete experience."
Coverly Plantation is still a working farm. There are tractors about, farm equipment, and a family lives in the farmhouse. This is just the kind of atmosphere Boudreaux wants for his preserve clients.
"If you go to the Deep South, to Georgia for example, bird hunting is a part of the fabric of their lives. When you think about what you're going to do on a Saturday, you could just as easily go bird hunting as go to the movies. It is not like that in Virginia, but it used to be. For many reasons-and there are many-bird hunting is not very common here anymore. What we are trying to recreate is the same experience someone 40 or 50 years old had when they went hunting on the family farm growing up."
During the preserve hunting season, which runs from September 1 through April 30, Boudreaux, his guides, and their dogs are available to guests by appointment.
Ever the host, Boudreaux greets them with hot coffee in the morning and cold drinks after the hunt. He tells them the history of the farm and happily listens to their recollection of the day's hunt.
Ironically, Boudreaux did not grow up hunting. As a boy in Franklin County, his family had guns and he spent many days hiking in the woods. Hunting came later.
At Hampden-Sydney, he majored in political science and history with a concentration in French, and sang in the Glee Club. He taught at a couple of prep schools (including Amelia Academy, which led him to Coverly for the first time) as well as at Richard Bland College.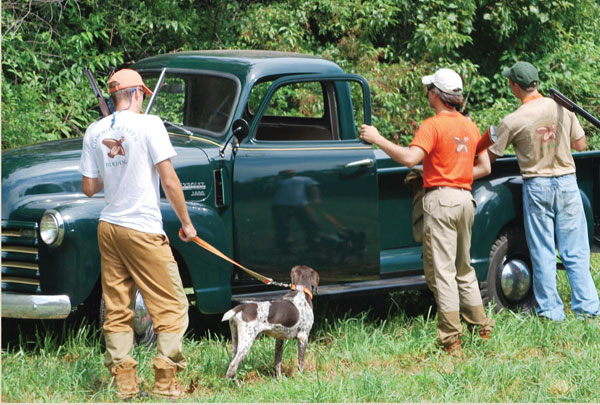 During the "off season," he works as the political liaison for The Virginia Hispanic Chamber of Commerce in Richmond. It was while he was earning his master's degree in political science at Virginia Tech, however, that he considered something like Commonwealth Birding.
"My professors at Hampden-Sydney always told me, if you do something you love, the success will follow. Well, our first year was better than I ever imagined."
Expanding from a hunting preserve to a clothing line developed naturally after clients snapped up Commonwealth Birding hats as fast as they could make them. He adds, "We offer a level of authenticity that many other brands do not. Others tell you that if you buy these clothes, you'll be Southern. Here, we have an entire side of the business that lets you live the lifestyle captured in our clothes."
Boudreaux sees the business expanding from the preserve and e-commerce site ( www.commonwealthbirding.com) to include event hosting, possibly big game hunts, and an area for skeet and trap shooting. Already, Commonwealth Birding is a sponsor of the H-SC Clay and Target Club, which has been out to the preserve twice for practice and cookouts.
At the dawn of a new hunting season, Boudreaux busily fills his days scheduling hunts, ordering supplies, and preparing guides. Soon, though, he will be out among the hedgerows with the dogs, enjoying the brisk morning air of the Virginia countryside on a hunt with guests, soon to be friends.