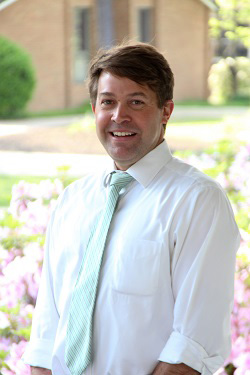 For almost 20 years, Green has taught and coached at St. Christopher's School in Richmond, as an upper school English teacher, varsity cross country coach, and now as associate dean of students. In addition to his work at St. Christopher's—where he has developed grade-level "whole boy" programming that asks students to consider how they can make a positive difference in the lives of others—the Coalition recognized Green's ongoing leadership of the IBSC Student Forum. He created and directed the first student forum in 2013, bringing more than 30 young men from five continents together to focus on civic engagement and citizen leadership; he also directed a summer leadership program for students in the Richmond area for more than a decade.
Green says that as a graduate of an all-male college himself, he personally understands and values the positive experiences offered by a single-sex learning environment.
"My experiences at H-SC taught me to trust in my own voice while valuing the ideas and perspectives of others. The all-male learning environment could be challenging, but often in the best way possible."
The English and history double-major adds, "The classes that had the greatest impact on me, first as a student and then as a developing educator, were those that were rigorous while maintaining a playful atmosphere. Teachers like Dr. Susan Robbins and Dr. Ron Heinemann, in particular, provided me models for the type of teacher I wanted to become."
Green traveled to Gold Coast, Australia, to receive the award at the 2018 IBSC annual conference, which was attended by more than 600 delegates from 13 different countries.