On the Hunt for a Good Cause
From The Record, Fall 2018
Entrepreneur, outdoor enthusiast, family man, youth baseball coach: whatever Michael D. Luter '94 sets his mind to, he pursues with energy, passion, and dogged determination. And Luter's latest venture is no exception. Inspired by his love of the outdoors and his deep appreciation for the U.S. military, this Hampden-Sydney man has started a new family tradition to give back to those who serve our nation.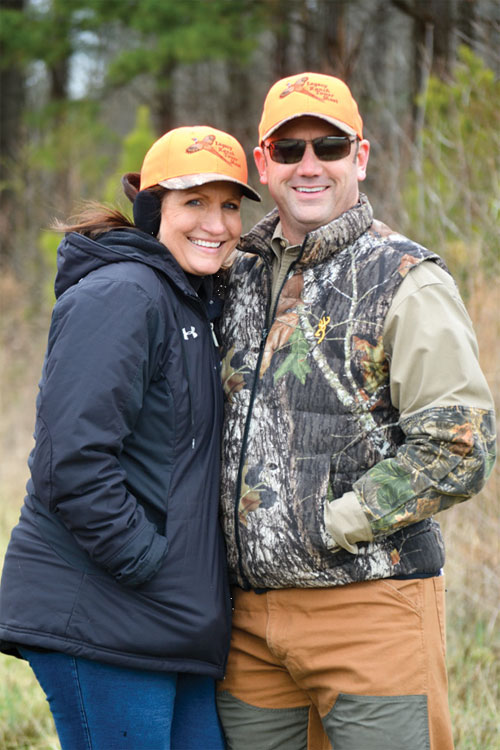 Now in its fifth year, the Legacy Ranch Tower Shoot provides a day of camaraderie and sportsmanship to wounded or injured service members and veterans in the Hampton Roads region. Luter and his family join forces with the national charity Freedom Hunters to put on the annual event, which has quickly grown into the organization's largest event of its kind nationwide. The hunt allows both veterans and active-duty men and women a chance to participate in a social, familiar activity outside of a military or hospital setting, Luter says, hopefully lending a sense of normalcy to their lives.
"I live in an area with thousands of veterans, and I have seen the toll that military service can take on a soldier's mind, body, and family," says Luter, whose own son in-law recently returned from deployment with the U.S. Navy. "If my family and I can make a difference in just one soldier's life by giving him or her a normal day," he says, "then we have accomplished our goal." Luter goes on to cite a sobering statistic from the Department of Veterans Affairs: the United States loses approximately 21 veteran and active-duty service members to suicide each day. "Before the hunt each year," he says, "my family and I pray that the Legacy Ranch Tower Shoot can help reduce that number, if only for a single day."
The Legacy Ranch Tower Shoot begins bright and early with steaming coffee, gourmet doughnuts, and a safety presentation entitled "Shoot the Birds and Not Your Buds." By 10 a.m., everyone's focus is on the 240 pheasants soon to be released in the tower-shoot-style hunt. Approximately 40 hunters ranging in age from their early twenties to their late sixties take to the fields of a private hunting preserve just outside Suffolk, several outfitted with specially-constructed track chairs to help them navigate the uneven terrain. Participants hail from multiple military branches, many having seen combat in Vietnam, Iraq, or Afghanistan. All have sustained injuries—some are wheelchair users with visible injuries, others suffer from invisible wounds such as PTSD. Regardless of their differing circumstances, however, the hunters spend the day connecting with each other and sharing stories from their time in the service.
---
"If my family and I can make a difference in just one soldier's life by giving him or her a normal day, then we have accomplished our goal."
---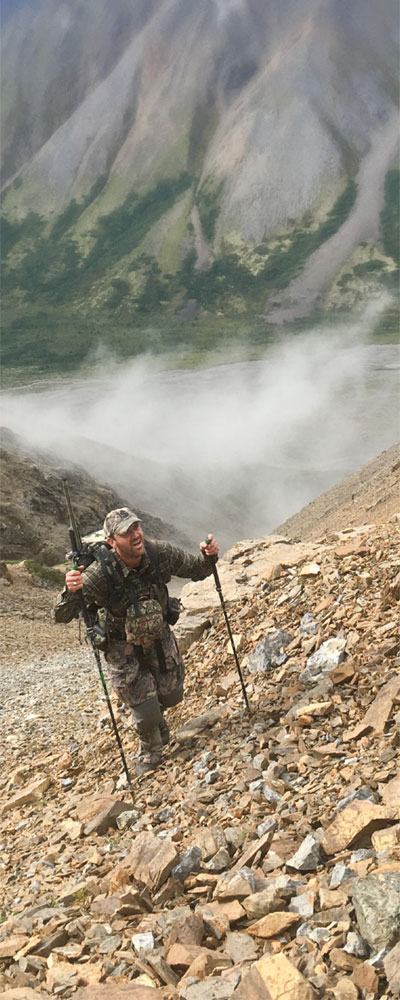 After several hours of shooting, the group reconvenes for a homemade lunch courtesy of Judy, Luter's wife, and Keith Blythe, a close friend "despite being an R-MC alumnus." Their cowboy chili and warm apple cake served over an open fire are perennial favorites. Also popular are the prizes and giveaways, which include tickets to athletic events, bottles of specialty bourbon, and top-of-the-line hunting and fishing gear. By the end of the day, the harvested pheasants are ready for the hunters to take home, cleaned and dressed by Luter's sons. It takes an army of volunteers to put on the Legacy Ranch Tower Shoot each year, most of whom are either family members, close friends, or parents from the two youth baseball teams that Luter has enthusiastically coached for the past 11 years. "I could not do it without them," says Luter, whose wife and children are involved in every aspect of planning and executing the hunt. "Seeing my family work together to give back to our soldiers makes my heart burst with pride." In fact, the event's name is a nod to the couple's intent to continue the shoot for years to come through their children and, eventually, grandchildren. Luter explains, "I want this hunt to be part of the legacy I leave behind—something that continues long after I'm gone."
Luter didn't always have the time or the means to pour into such a labor-intensive event. In 2006, the entrepreneur left a secure job in the environmental services industry to start his own company, taking equity out of his personal residence to buy his first vacuum truck and pitching his business plan to five different banks before one took a chance on his start-up. It wasn't easy—Luter was in the field doing the dirty work for the first year—but Arrowhead Environmental Services quickly turned a profit. Still, he remembers thinking, "I've got a biology degree from Hampden-Sydney College, I've got an MBA from Averett University, and I'm cleaning sludge out of an industrial tank at three in the morning."
Twelve years later, though, Arrowhead Environmental employs a staff of 34 and counts companies like DuPont and Anheuser-Busch among its clients. With a commitment to safety, customer service, and giving back to its employees and community, the accolades are rolling in for Luter's company. Most recently, Entrepreneur magazine ranked Arrowhead 178th among the "Best Entrepreneurial Companies in America," one of only eight Virginia companies named to the list. Other recognition includes two appearances on Inc. Magazine's Inc. 5000 list of fastest growing U.S. companies, television coverage on the Ion network show The World's Greatest, and regional awards like Inside Business: The Hampton Roads Business Journal's Roaring 20 List and their Entrepreneurial Excellence Award. "It takes ten years to be an overnight success," laughs Luter, "but things are falling into place really well."
---
"Dr. Shear knew I did not come from a strong academic background, but he made me focus on what I could be, rather than on what I was. His constant encouragement and no-nonsense approach pushed me to be better. It changed my way of thinking and, ultimately, my life."
---
Also an owner of a consulting firm, ONE Environment Group, Luter runs his businesses with the same integrity and work ethic that he encountered at Hampden-Sydney, where he learned that a man's word and his handshake still had merit in the world. "From the time I walked onto campus," Luter recalls, "I was treated like an adult and held accountable by professors who expected hard work and accepted no excuses." Coming out of a small, rural high school that sent only a handful of graduates on to four-year institutions, Luter claims he was unprepared for the rigors of Hampden-Sydney academics. But professors like Dr. William Shear made the difference for Luter, who was the first of his family to attend college. "Dr. Shear knew I did not come from a strong academic background, but he made me focus on what I could be, rather than on what I was. His constant encouragement and no-nonsense approach pushed me to be better. It changed my way of thinking and, ultimately, my life," he says.
Despite the demands of his growing business, Luter still finds time to indulge another great passion: the outdoors. Always a hunting and fishing enthusiast, Luter has pursued increasingly extreme outdoor adventures in recent years, such as a week of solo turkey hunting in Mexico's Yucatan jungle and a backcountry excursion hunting Dall sheep in Alaska. The latter proved to be the most mentally and physically challenging experience of his life, according to Luter. From their base camp at an elevation of 2,500 feet, he and a guide covered 8-10 miles and approximately 4,500 feet of vertical elevation each day. On their sixth day off the grid, Luter says, "We crested a mountain and encountered a wall of snow with just enough time to hunker down in a hole for about four hours." The pair eventually made it back to their base camp well after dark, but the next four days were a whiteout of snow and sleet that delayed their extraction by several days. "I wanted the deep-wilderness, off-the-grid experience," Luter says with a chuckle, "and I certainly got it!"
Always pushing himself, always challenging his comfort zones, Luter approaches each area of life with the same energy and attitude that helped him succeed as an undergraduate at Hampden-Sydney College, whether it's building a successful business or investing time and talent in his local community. With his determination to leave a legacy of giving back—especially to wounded veterans and service members—Mike Luter is living out the College's ideal of a good man and a good citizen.