A New Game Plan
From the Record, Spring 2022
By Alexandra Evans
When Mike Daum '23 stepped onto Hellmuth-Gibson Field for the first time on February 8, 2020, he looked just like the rest of his teammates: lacrosse stick in hand, helmet and pads on, sporting a white jersey emblazoned with "Tigers" in garnet. This freshman couldn't have been more different than the men he took the field with, though. Mike was already 24; he was married; and he had seen far more dangerous battle than they would face against Mary Washington that day.
A combat veteran of the Army's 82nd Airborne Division out of Fayetteville, NC, Mike arrived on the Hill in the fall of 2019 with a unique perspective on life and the real world. "I was thinking I'd come back to college and be a normal guy again, but I quickly realized I'm an outlier on campus," Mike concedes. "When I say something in class, people stop talking and listen. It made me take a step back and realize, 'Oh I better know and mean what I'm saying.' I feel like I need to bring my A-game all the time and set a good example."
It wasn't the first time Mike had tried and failed to be a normal guy. After an ACL tear in high school limited his chances of playing Division I lacrosse, Mike set aside those childhood dreams and embraced the opportunity to have a new experience—to be a regular student without the grueling early morning practices and training sessions or weekends taken up by games and tournaments. Enrolling at East Carolina University in the fall of 2014, Mike thought he would pursue a business degree and figure out the rest later. He quickly learned that I'llfigure- it-out-later did not work for him.
Admitting that he "lived at college but didn't go to class very often," Mike ended his freshman year with a hangover, a wanting GPA, and the realization that without serious change returning to ECU was a waste of time and money. "I didn't have a plan, and I wasn't interested in anything I was learning," he says. "My friends were picking majors and getting internships, and I was just living for the next party." Knowing where to go to grow up, Mike took a page out of the Daum family playbook and enlisted in the Army in 2015.
"I should have gone straight from high school into the military," Mike confesses. "It gave me a really unique perspective on what the rest of the world is like, and it made me more empathetic. A lot of people aren't fortunate to live in a country with as many freedoms as America. It taught me to be more selfless—to not think about what's happening to me but about what I can do to make the situation around me better. It's hard to gain that perspective on a Saturday night at East Carolina."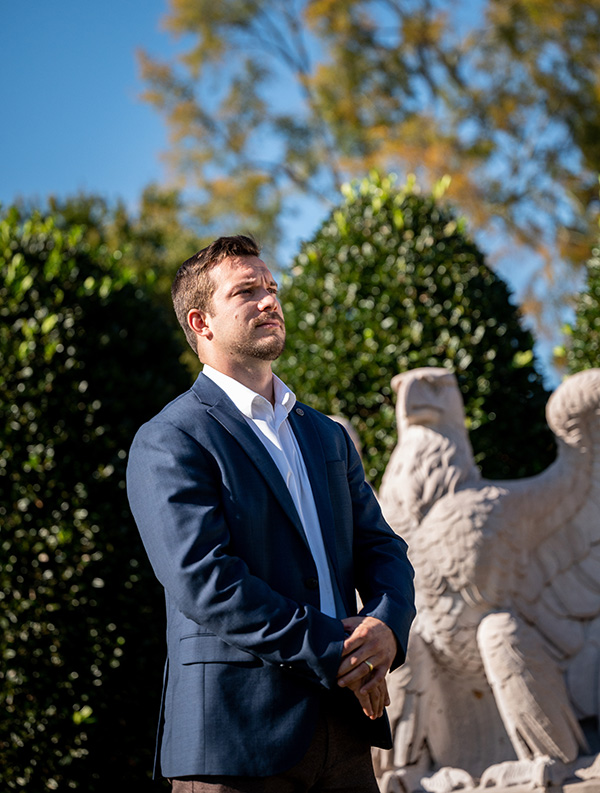 Though he planned on making the military his career when he enlisted, Mike soon realized the importance of education. "The guys I was working with were really smart," he says. "It wasn't just a bunch of dumb guys with no other options like some people think. My mentors had master's degrees and Ph.D.s. I knew I wanted to finish my degree, but the unit I was in didn't lend itself to working on a degree while I was in. I wanted more freedom to pursue other paths and interests."
And once he met his now wife, Kimberly, after returning home from a year-long deployment to Afghanistan, Mike knew it was time for him to turn the page. Following his separation from the Army, Mike spent some time coaching alongside his high school lacrosse coach, John Hayden. Being back on the lacrosse field excited Mike, and he felt the spark to lace up his cleats again. Coach Hayden's son, Jack Hayden '21, was a junior at Hampden-Sydney and a standout on the Tiger Lacrosse team, so Coach Hayden put in a call to Tiger Lacrosse Head Coach Jason Rostan '03. Mike was familiar with Hampden-Sydney, having been recruited in high school by former H-SC Lacrosse Coach Ray Rostan, but says, "I didn't know half of what made this such a special place."
Mike notes that the history of the College runs very parallel to the nation's history, and the fundamental values of the College are reminiscent of what he was fighting for in the military. "I was wary about going back to college because of the perspective that it's dominated by one political view, but this place isn't like that," he says. "I'm constantly being challenged to solidify what I believe. Hampden-Sydney offers an environment where you can change your mind and be exposed to new ideas."
And on top of the exciting academic possibilities, Mike got the chance to suit up once again and play the game he loved. "I think everyone expected me to be an overbearing military guy. But I was like 'Man, I get to be in college again and play lacrosse. What are we doing?'" Mike laughs. "Those guys are amazing athletes, and I felt privileged to be around them. I felt like I was there on charity, but I did the hard stuff and found ways to contribute." And the team contributed just as much back to Mike.
"War is not fun," he says. "Coming here and being respected by the guys but also having them crack jokes about me being old and slow helped me navigate my next steps. Having that support system was really important. The team definitely helped me heal from some of my experiences." The years of jumping out of planes took a toll on Mike's body as much as his mind, so he has hung up his cleats one more time and is focusing on the future. And though he won't be on the lacrosse field in uniform anymore, Mike will continue to be a steady presence on the sidelines this spring, saying, "My plan is to be their number one fan."
Coach Jason Rostan notes that Mike's unique life experiences enriched not only the team but also the coaching staff, adding, "Mike is a tremendous leader and did a great job captaining our team last season. He was a real presence within our team—his toughness, maturity, leadership ability, and drive to succeed at the task at hand are impressive and unquestioned."
Having left his mark on the lacrosse program, Mike is turning his attention to the classroom and the next chapter of his life. "Having more time to meet with professors and interact with guys I didn't have time to meet before has been great," Mike says of his time freedom. "I also work with the Wilson Center a lot, and I've gotten really involved in the newly created Alexander Hamilton Society—a club based on the Federalist Papers that encourages civilized debate over foreign affairs and national security."
Pursuing a psychology major and a national security minor, Mike wants to go into federal law enforcement after graduation. "I left the military thinking I didn't want anything to do with government work ever again," he says. "I've since left denial and realized that this is what I'm passionate about. Especially with the negativity toward law enforcement and my view of, 'Well, what can I do about it?' I want to be a part of the solution."
He may have started as an outlier, but Mike Daum has proven himself to be a Hampden-Sydney man to the core.