What activities are you involved in?
Student Senate Chairman, Head Resident Advisor for Fraternity Circle, Finance Committee Member, Delta Kappa Epsilon Brother, Wilson Center Fellow, Tigers for Liberty Founder.
Why did you choose Hampden-Sydney? Why have you stayed?
I chose Hampden-Sydney because I believed that attending a small liberal arts college with an emphasis on forming good men would allow me to grow not only academically but also in character. I stayed because I found what I was looking for and so much more. Whether I am attending the history department's annual meet and greet, talking with a dean until 1:00 a.m., or working with classmates on a project, I'm constantly challenged to grow as a person, and that makes me proud to call this place home.
If you could give yourself advice as a freshman, what would it be?
Lieutenant General Sam V. Wilson once said, "It is now your world; it is not mine anymore. And it's a beautiful, blue jewel… a shining sphere. Love it, cherish it, protect it and keep it." I would tell my freshman self—all freshmen, in fact—to take this advice to heart. After high school, four years of college sounds like an eternity, but it isn't. The time goes quickly; however, it is an incredibly special time, and one that all students ought to strive to make the most out of.
How have you transformed during your time at H-SC?
When I was a freshman, I knew I wanted to succeed at college. The biggest change I've seen in myself is now knowing what success at college means. Success on the Hill means being involved, making lifelong friends, striving to do well in your classes, and most importantly, taking the time to contemplate what it means to be a good man.
Who is your favorite professor and why?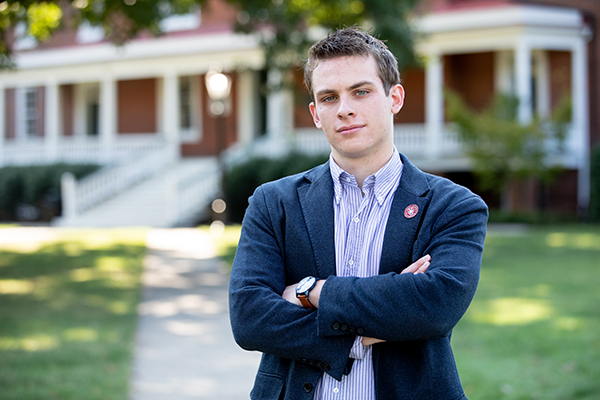 This past summer, I worked on a research project titled "The Garland Family: Two Paths Diverged in a Magic City." My research was on the political development of the Republican party of Virginia. I strenuously examined historical documents and historical events to analyze how the careers of Virginia State Senator Ray Garland and Roanoke City Councilman Robert "Bob" Garland—relatives of former Dean of Admission Anita Garland—highlight the rise and fall of the moderate Mountain-Valley Republicans of the 1960s and 1970s. My advisor, Associate Professor of Government and Foreign Affairs Celia Carroll Jones, pushed me to dig deeper, put together more connections, and make the paper my best work ever. I ended the summer with a paper that I'm very proud of and that I'm hoping to publish in an academic journal within the next year. I will always be grateful to Dr. Carroll for helping me develop the skills necessary to create this work.
How is H-SC different from your expectations before you arrived?
I expected H-SC to be a place where I could get a good education. The nature of that education is different from what I expected. I have received the amazing academic instruction I expected, but I have also learned that most true learning takes place outside of the classroom. Classes enable students to facilitate meaningful and deep conversations in their personal lives—the type I live for. Whether I am discussing the proper way for an elected official to act or deliberating on the duties of good citizens, I continually pull ideas from my varied course range. I never expected to have gained so much from these out-of-class discussions
What do you like most about the H-SC experience?
I love my ability to jump from activity to activity here. Today, for instance, between my classes, I had lunch with a dean and then spoke on the phone with an alumnus in the Virginia House of Delegates. After classes, I met with the Computing Club, who helped me update the Senate website. After that, I spoke to freshmen about their future aspirations, and before writing this post, I went to a concert where the host organization was selling barbecue to raise money for Veterans of Foreign Wars. I did all of this without leaving campus. The multitude of events and opportunities available here present themselves continually, and I love always having something exciting to do.
What do you wish outsiders knew about H-SC?
I wish outsiders knew that we are not just a college. We are an experience. Students enter as boys and leave as men. Deciding to come here is fundamentally different from choosing any other college. Here you will be challenged not only in academics but in all facets of life. H-SC is a place where families should be proud to send their sons.
How has the College prepared you for life?
Because of my time on the Hill and in SGA, I have learned how to think critically, make difficult decisions, manage a quarter of a million-dollar budget, and more. Functionally, my time on this Hill has prepared me to develop new skills and embrace new and challenging situations.
What's your favorite spot on campus? Why?
My favorite spot on campus is the Wilson Trail—assuming you can count its two and a half miles as a singular spot. I try to walk it every few days because I love to be able to get into nature and just think.
Who's your role model? Why?
My role model is Cincinnatus. While he might have died over two millennia ago, he represents the model for what I believe a good man is. He was a retired politician who was living as a farmer when Rome was invaded. Seeing the need for a unified political state, the Roman Senate granted nearly absolute political power to Cincinnatus if he would return from retirement and lead Rome's defense. He did, and immediately following the end of the invasion, he relinquished his power and returned to his farm. Cincinnatus acted in the interest of the common good without distorting his position for self-aggrandizement.