This story appeared in the Fall 2017 Record, the alumni magazine of Hampden-Sydney College.
"At Hampden-Sydney, we are working to provide experiential learning opportunities for our students," says Dr. Michael Wolyniak, director of the College's Office of Undergraduate Research. "Our summer research program is experiential learning in its purest form: students take what they've learned in class and apply it independently to a problem. In the process, we see them develop their own ideas and really flourish." The College sponsored 32 student research projects on campus this summer in both the humanities and the sciences. In this issue, The Record spotlights the research of two seniors, both biology majors and chemistry minors, who hope to pursue graduate work after Hampden-Sydney.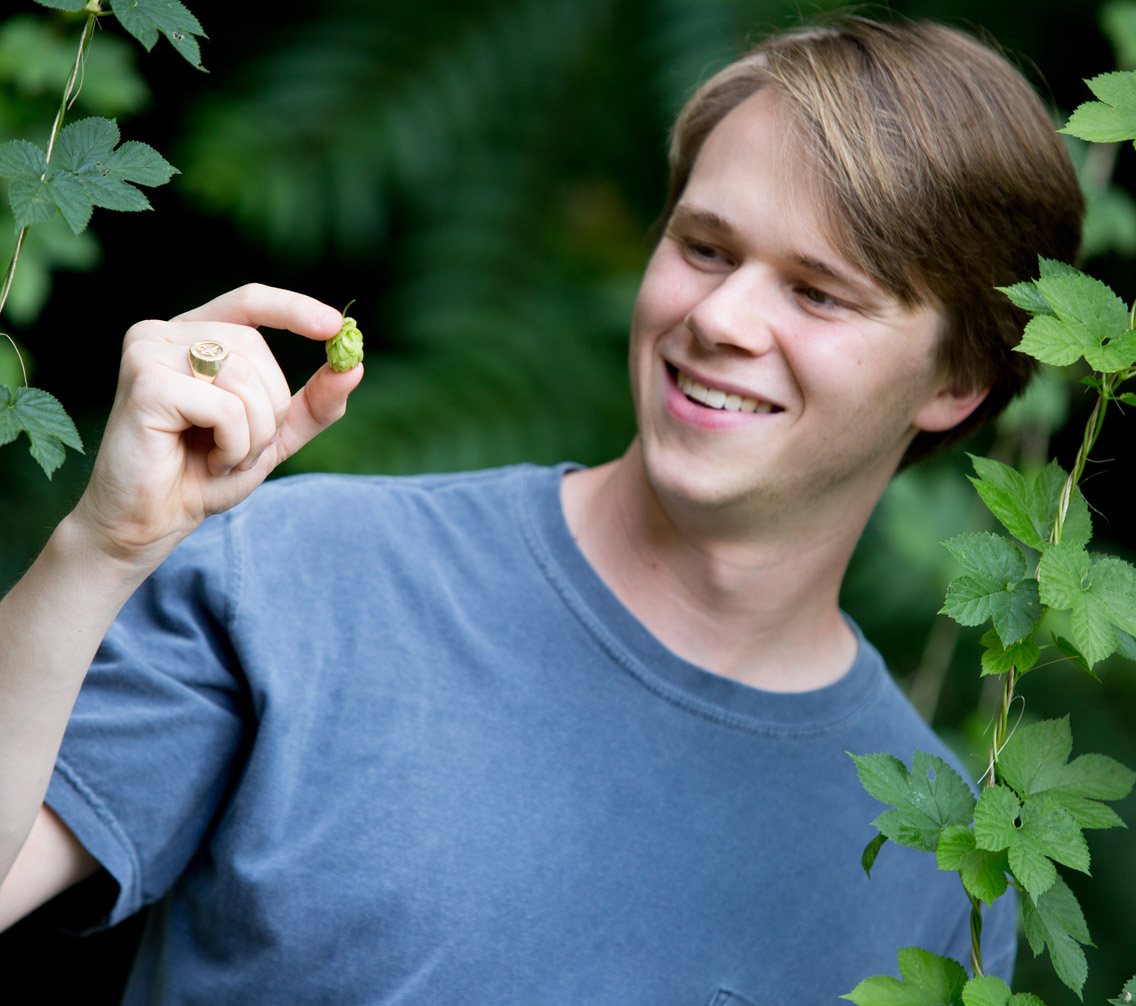 Sean Walden '18 tackled a problem that poses a significant economic threat to the beer industry: fungal infections in Humulus lupulus—the common hop plant. In recent years, several H-SC students have studied hops and the downy mildew that attacks them, but Sean was particularly interested in studying the plants' own defenses as a potential fungicide—a natural alternative to current fungicides that seep copper into the soil and groundwater.
His research focused on the essential oils found in hops cones, the source of beer's distinct flavor and aroma as well as a natural defense against pests and other threats. After reading a study on the anti-fungal qualities of other essential oils, Sean wondered if the hop plant might produce an essential oil to combat infection. Its application could extend well beyond hops to other commercial crops threatened by fungus—a potentially lucrative discovery.
Sean's eight-week project established an essential oil profile for the Citra hop varietal. The process involved flash freezing hops cones with liquid nitrogen, pulverizing the frozen cones, placing them in a hexane solvent, then distilling the essential oils. He used the College's gas chromatograph mass spectrometer (GC-MS) to identify the molecules in the distilled essential oils.
As he works toward earning biology departmental distinction, Sean will continue his research throughout his senior year, testing if the specific essential oils he identified this summer stunt the growth of fungal cultures. Although developing a commercially viable fungicide would take years of research, Sean hopes he's laying the groundwork for future essential oil-based fungicides.