AROUND THE WORLD IN 105 DAYS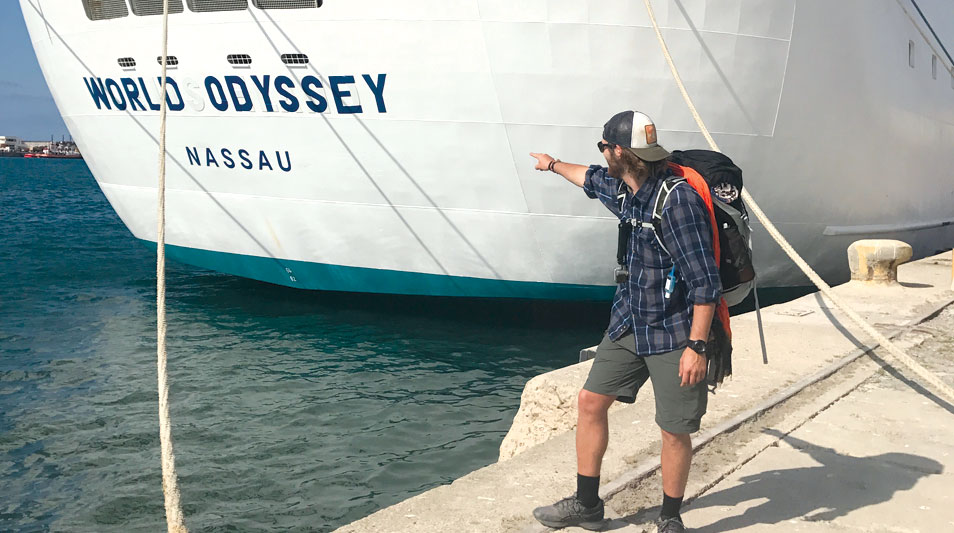 "My name is Tillmon Cook; I'm from a small town in North Carolina, but I go to Hampden-Sydney College in central Virginia." I repeated this line countless times last January as I tried to meet as many of my fellow Semester at Sea voyagers as I could. I spent the next four months aboard the MV World Odyssey with 600 other students from 33 countries, earning college credit w hile sailing the world. When the ship left San Diego on January 5, 2017, it was my first time leaving the United States—a global adventure that took me to four continents, 11 countries, and 12 cities.
Here is my story:
GREETINGS FROM 21°30.72' N, 156°33.20' W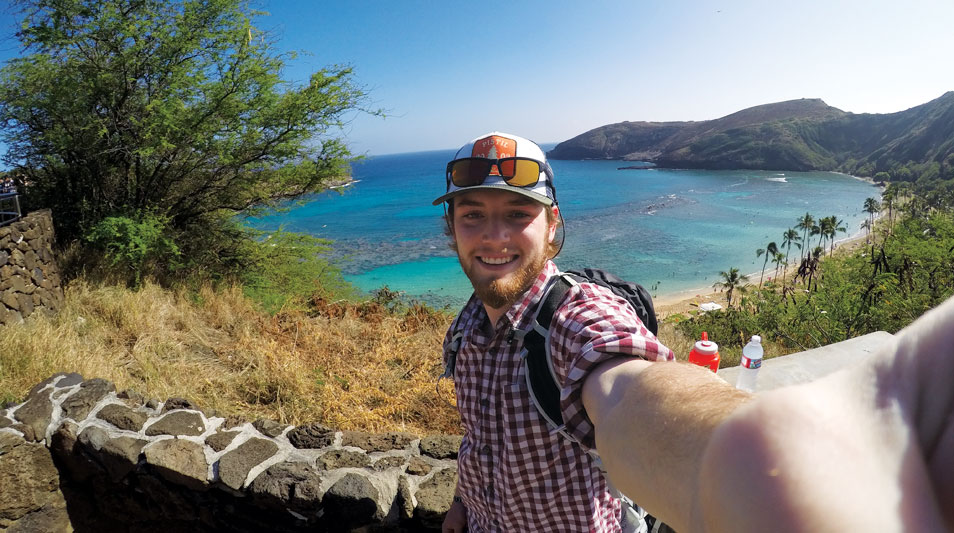 January 11. After six days at sea, I've gotten used to the ship's constant motion and learned that I have a decent pair of sea legs. The views are amazing: I've seen sea lions and a whale from the ship's deck, enjoyed the Pacific sunrise over breakfast, and sailed alongside a battleship. Tomorrow we spend ten hours in Hawaii, the last time I'll be on American soil until I fly home from Germany in April.
GREETINGS FROM TOKYO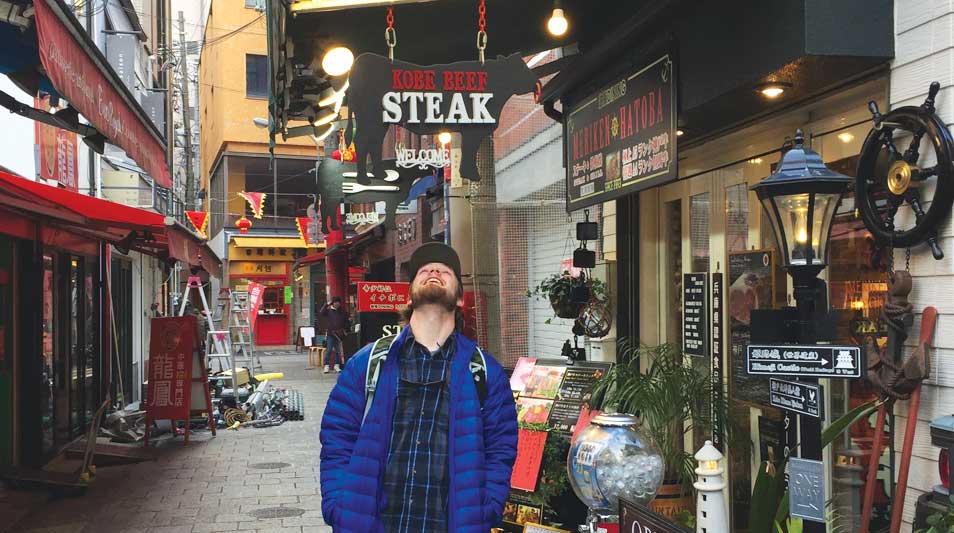 January 27 . We sailed for ten straight days before arriving in Kobe, where the Japanese coast guard greeted our ship with a water cannon show and I tasted world-famous Kobe beef—ridiculously expensive, but totally worth it. I spent a day in the now-bustling city of Hiroshima visiting the Hiroshima Bomb Museum and peace memorials. I came away with a new understanding of the atomic bomb's devastation; it's sobering to see the effects of war, even on the innocent. I also spent a day absorbing Japanese culture in historic Kyoto before heading to Tokyo with a friend. We got on the bullet train without much of a plan—not even a hotel reservation—but we saw the Imperial Palace and ate dried fish eggs and squid at the world's largest fish market. The last-minute trip was the most spontaneous thing I've ever done, but it taught me how to take control and increased my confidence as a traveler. I'm ready for China!
GREETINGS FROM SHANGHAI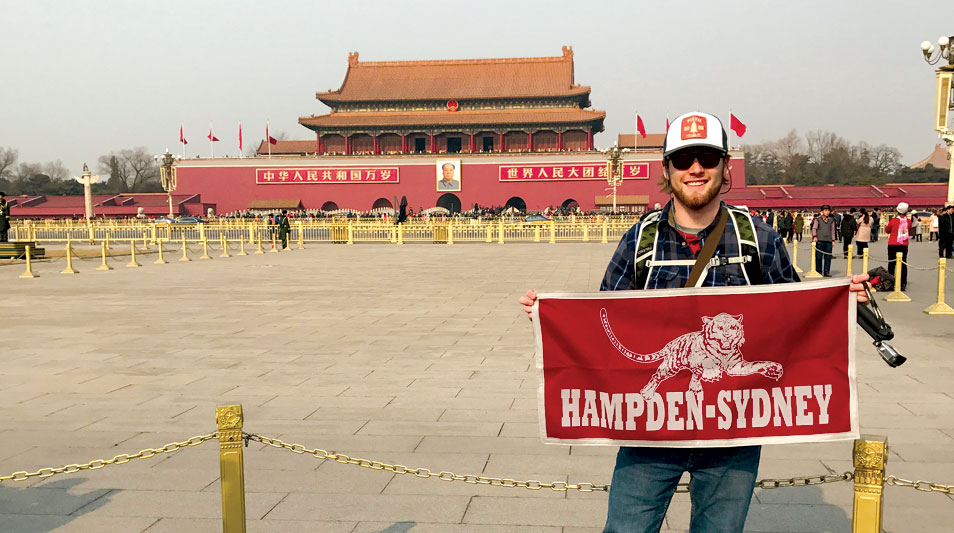 February 4. Three days ago we arrived in Shanghai, and I felt like I woke up on a different planet. It's the most architecturally advanced city I've ever seen, with skyscrapers as far as the eye can see. The next day I visited the water village of Zhujiajiao, with its ancient buildings lining the waterways, then boarded a flight for Beijing. The two-day trip included everything from a rickshaw ride around the old city to a toboggan ride down the Great Wall; highlights in between were eating dinner in a local family's home and almost getting in trouble for taking a picture with my H-SC flag in front of the Tiananmen Square. I got the picture, though!
GREETINGS FROM VIETNAM AND CAMBODIA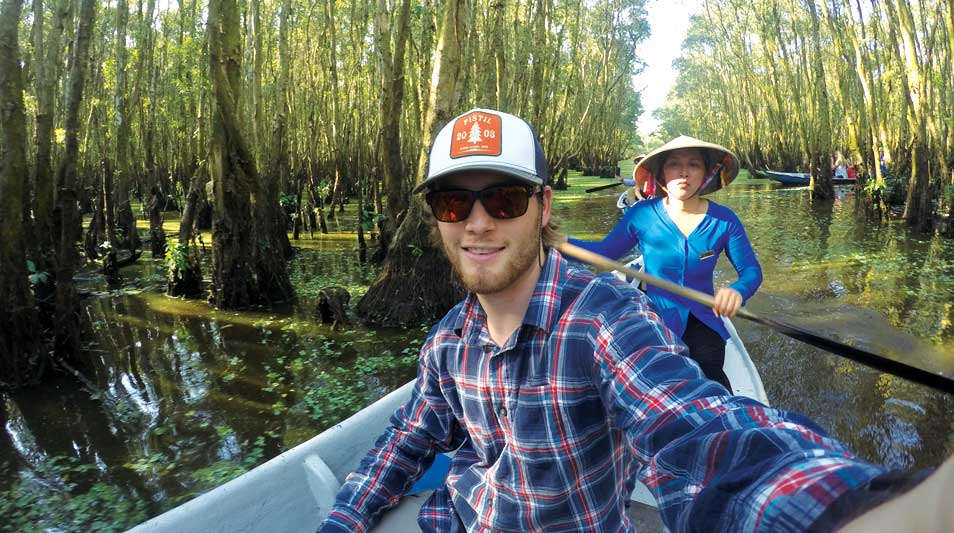 February 13. We ported three days ago in Ho Chi Minh City, Vietnam, surrounded by landscape that looks exactly like the war documentaries I've seen. It was strange to see a local museum exhibit about the "American War" and the "savages" that killed their men. But the people-watching here is fascinating: people piled on mopeds, a herd of cattle in the river, shacks and hammocks and friendly people everywhere.
After a six-hour boat ride to Cambodia, I learned graphic details of the Khmer Rouge atrocities at the Cheung Ek Killing Field and the Tuol Sleng Genocide Museum. I met one of only seven known survivors of Tuol Sleng, a former high school-turned-prison where nearly 20,000 people were killed in the late 1970s. Bou Meng is almost 80 years old, but he returns to the Genocide Museum every day to remind people of what happened there.
Not everything in Cambodia was so sobering. My small group traveled north to a village to meet local school children—whose English was surprisingly good—and help an elderly woman build a wall for her house. I was especially excited to visit the Angkor Temples, an opportunity that did not disappoint. I saw the sun rise over Angkor Wat, got blessed by a Buddhist monk, and tried out my French on some other tourists.
GREETINGS FROM MYANMAR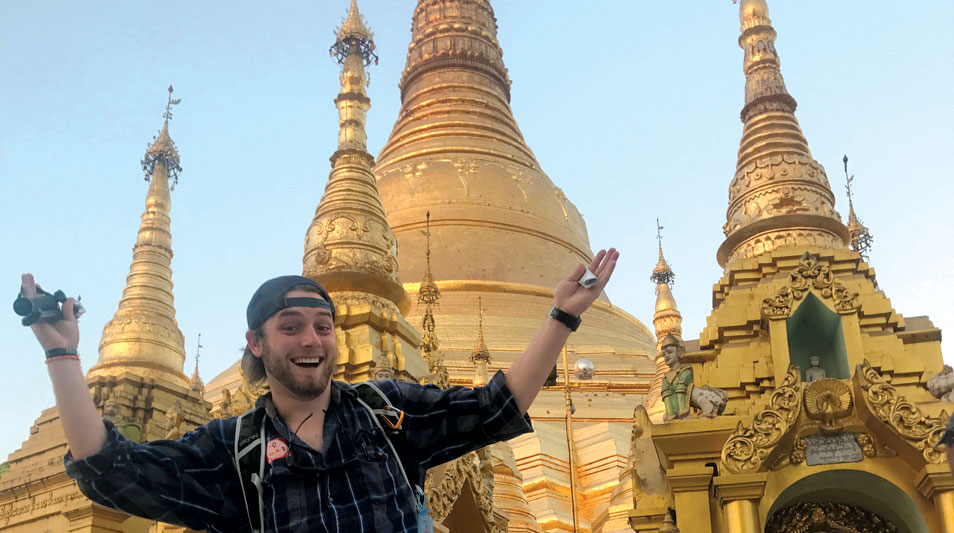 February 25. We packed a lot into our three days at port: Buddhist monasteries and pagodas; hiking, kayaking, and cave exploring; boat rides and bus rides throughout the Mon State, one of the oldest civilizations in Southeast Asia; and visiting both ancient and colonial sites. I had to remove my shoes and wear a skirt to cover my knees at holy sites like the famous Shwedagon Pagoda, a golden temple where we saw hundreds of monks praying and worshiping. We also visited the pagoda in Mawlamyine that author George Orwell climbed each day to watch the sunset when he lived in Burma. Myanmar has been the most eye-opening experience for me so far with its juxtaposition of impoverished villages, beautiful temples, and flawless natural beauty. Myanmar, you are an amazing country. Thanks for treating me with respect and kindness—I couldn't have asked for better!
GREETINGS FROM INDIA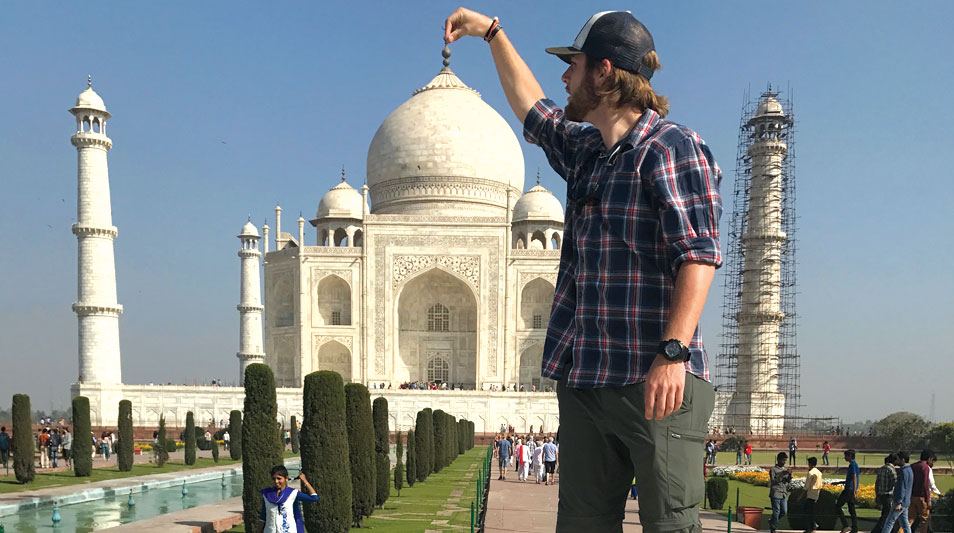 March 3. I 'm more than halfway through my voyage around the world, but there's still so much to see and learn. I spent my first day in India at an orphanage, where we played soccer and danced around with the kids on our shoulders. Those kids wore me out, but it was heartwarming to share their excitement and joy. I also spoke with the orphanage's director, who told me how difficult it is for them to secure funding. I hope to convince my church at home to support them. The remainder of the week I traveled with friends to New Delhi and the Taj Mahal—without a doubt the most beautiful structure I've seen.
GREETINGS FROM SOUTH AFRICA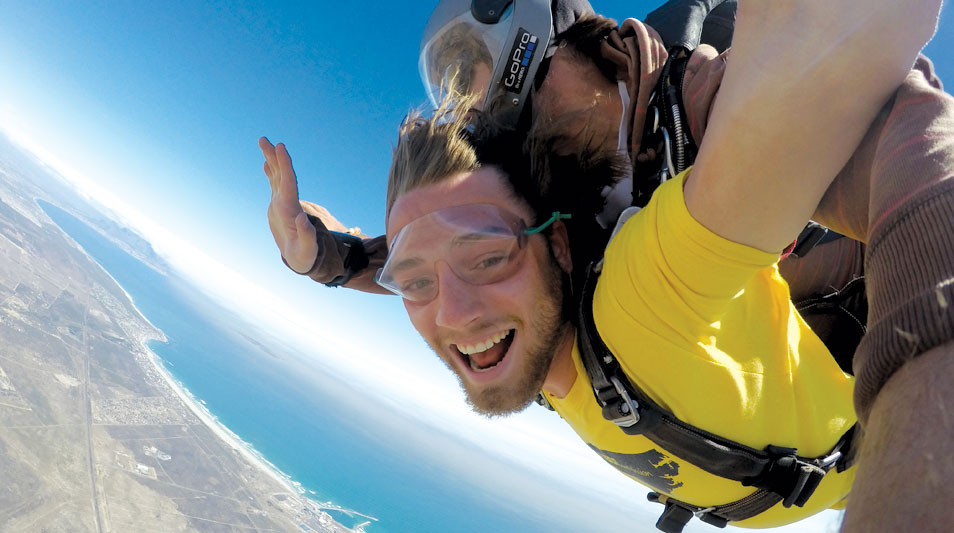 March 24. My first week in Africa can be summed up in one word: adventure. I hiked Table Top Mountain, which overlooks Cape Town and the bright blue sea beyond; visited a beautiful beach and attempted to swim in the ice-cold Antarctic waters; went sandboarding on the dunes, which was more fun than expected; and even jumped out of a perfectly good airplane—an experience I highly recommend. I spent my final day at Cape Point, the southwestern tip of the continent where tradition says the Atlantic and Indian Oceans meet. We enjoyed incredible scenery: ostriches, baboons, and penguins; vineyards and villages; breathtaking cliffs and ocean views.

Mid-week, I took a break from adventure to visit the Langa Township, thousands of tiny tin homes that made me realize how huge our American houses are. We spent time with local children, first at a crowded orphanage where we sang and danced with the kids and donated school supplies, then at an after-school program called Happy Feet where the kids taught us stomp dance moves. We also took a bike tour of the township, which really opened my eyes to the inequality of races in South Africa. It truly is one of the most beautiful places on earth, but South Africa's sad legacy of apartheid and racial inequality still affects millions of people.
GREETINGS FROM 0° N AND 0° E!
March 30. We crossed the equator for the second time, this time at the prime meridian—which makes me a member of the Poseidon Society and an Emerald Shellback. If anyone ever asks, there actually IS a buoy that marks the center of the world.
GREETINGS FROM ACCRA, GHANA
April 3. I'll be honest, I didn't have many expectations of Ghana, but I'm appreciative of the hospitality we experienced. I spent some time traveling alone—a chance to get out of my comfort zone—and enjoyed an afternoon in Makula Market, packed with people and goods for blocks in every direction. There were food vendors selling baseball-sized snails, kitchen supplies stacked as tall as me, and men making leather drums and carving wooden masks. Everyone carries things on their heads—I gave it a try when a woman selling bottled drinks let me carry her basket. The good news is that I didn't drop her basket, which is basically her livelihood.
I spent a day in a fishing village and another at City of Refuge, an orphanage that rescues children from slave trafficking. In the village, we watched the fishermen return from the sea in man-powered wooden boats, met the local chief and asked him questions about the village's economy, and saw firsthand how commercial fishing vessels were decreasing the local fishermen's catch. A highlight from the orphanage was playing two hours of soccer with the kids in 103° heat—now I know why Ghanaians are in such good shape! We'll spend the next week on the ship sailing to Morocco, busy with final papers, projects, and exams as we finish up our classes.
GREETINGS FROM MOROCCO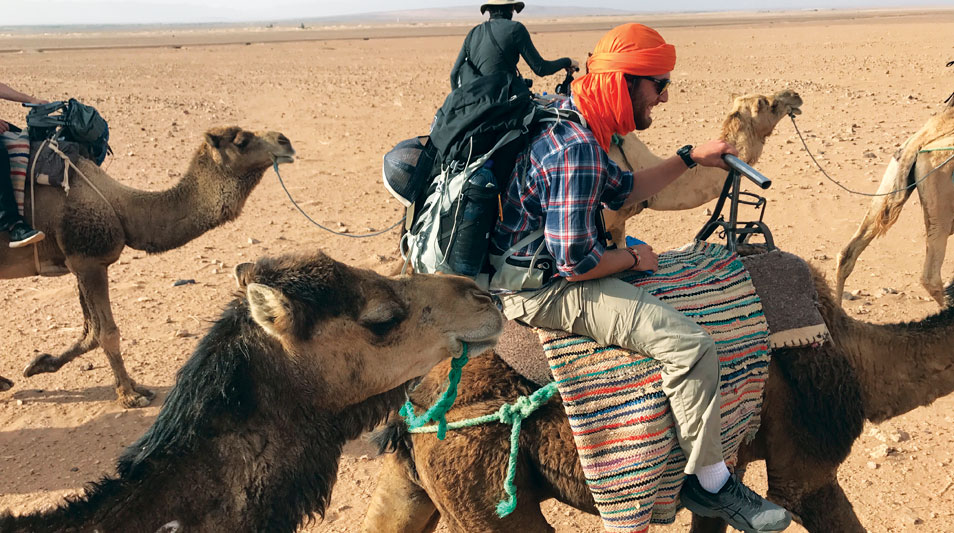 April 15. With only four days in our final port, we had to be strategic with our time. As soon as we stepped off the train in Marrakesh we were blown away by the city's beauty. The food was delicious, the people were welcoming, and the city center was full of energy: shops, musicians, acrobats, even a spectator boxing match. Next on our itinerary was the Ksar of Ait-Ben-Haddou, a 17th-century city along the caravan route to the Sahara. From there, we took a camel ride to a nomad camp in the Zagora desert, where we hiked the dunes and enjoyed the desert's incredible views and incredible silence. That evening, the camp came to life with traditional dancing, dinner, star gazing, and conversation with fellow campers from around the world. I drifted off to the best night of sleep I'd had in a long time.
My last afternoon in Morocco was spent alone, exploring Casablanca's stunningly beautiful Hassan II Mosque, built on a promontory over the sea. It was a bittersweet experience, though, to make my way back to the ship that had become my home and climb aboard for the final time.
FINAL GREETINGS FROM BERLIN
April 22. Our disembarkment in Hamburg three days ago marked the official end to my Semester at Sea. It still hasn't sunk in that after sailing 23,911 nautical miles, I am now officially a world traveler. I've seen parts of the world I didn't know existed, met friendly people at every stop, made personal connections to global events, and realized that I take my home and family for granted far too often. Most importantly, I've learned more about myself than I ever expected. I can't express my gratitude to Semester at Sea and Hampden-Sydney for allowing me to follow my dreams—I can't wait to see where they take me next!