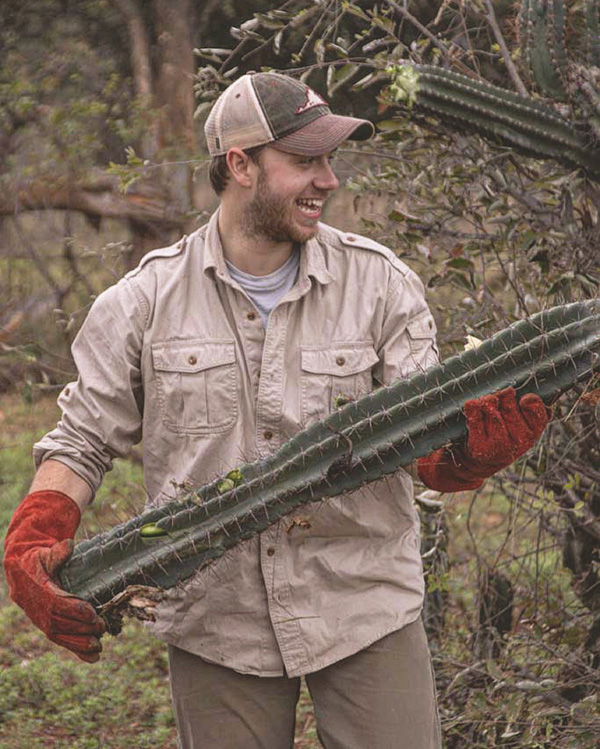 Coming into college William Gardner '25 had a plan set for the future, a goal he had dreamed of since second grade: becoming a lawyer. He wanted to attend a small institution that offered excellent faculty and was in Virginia, and Hampden-Sydney fit the bill. Studying government and history, William became the vice president of the Alexander Hamilton Society and was doing all the right things to set himself up for the future he envisioned. Little did he know that his best laid plans were about to change.
Behind the scenes, William always had another long-held dream. "The natural mystery and beauty of the African plains have been a whispering call in my ear since childhood," William says. Unable to successfully take the venture in the summer of 2021 due to COVID-19, William applied to be a conservation volunteer during the summer of 2022 for an organization called African Impact, which offers wildlife conservation and wildlife photography, saying, "I was a little nervous because there weren't a lot of testimonials and reviews online about the conservation, but when I arrived, everyone welcomed me with open arms."
After an exhausting journey with connecting flights in North Carolina, New York, and Germany, William landed in Johannesburg, South Africa, on June 11, a day before his 20th birthday. "It was a really long and dreadful set of flights," William says. "After I arrived, I got on a bus with other volunteers, some of whom were from North America, but primarily Europe coming from England, the Netherlands, and Sweden." Along with the volunteers were South African safari guides, who took William and the others into the bush to their camp at Phalaborwa, along the Olifants River.
After arriving at camp, William found his new home in a clay-walled building with thatched roofs situated in the middle of a bushveld — a biome in southern Africa known for having a dry climate, short shrubs, and rolling hills — where giraffes, elephants, waterbuck, and vervet monkeys roamed camp alongside the volunteers. "It seemed like every day I would have to run after monkeys to keep them from stealing our food," William laughs.
Once William settled into his bunkroom, he headed to a bar with some of his colleagues, and he was surprised to find out that they knew it was his and another volunteer's birthday. "After spending some time at the bar, we returned to our camp," William says, "Sitting outside, watching hippos, making friends, and enjoying one of the most beautiful places I have ever seen was a great start to the trip."
For the next four weeks, William woke up at 4 a.m. to load the vehicles for the days spent in the bush. Some days were spent repairing and protecting marula trees damaged by an overpopulation of elephants, which involved wrapping them with chicken wire and painting them to protect them from insects and elephants. Other days included removing Queen of the Night cactuses, an invasive species from South America that was brought over to plant in gardens and has since taken over. William also spent his time inspecting game traps and engaging in wildlife monitoring with GPS units, which involved finding elephants, giraffes, lions, and vultures and taking note of locations that each animal was found, the number and ages of each, and their activities. William noted how lions were more elusive to the reserve, which required them to submit information to the government for updates.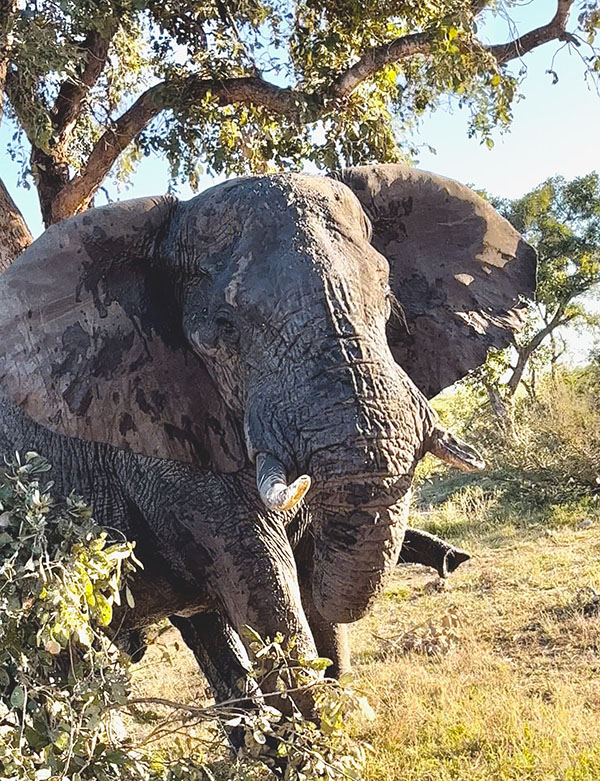 "I was in a completely different reality," William says. "I didn't have my Hampden-Sydney friends or my family. I was with a group of strangers but sharing a common passion." After hours of watching lions being charged by elephants and witnessing breathtaking sunsets, William knew he wasn't going to be a lawyer anymore. Returning to the United States in mid-July, William discussed his experience with his Hampden-Sydney brothers, ultimately deciding to return to Hampden-Sydney and delve further into his new calling: to understand the human role when interacting with the natural world and understand what it means to be a dominant species.
Upon his return, he met with Patterson Professor of Biology Alexander Werth and Elliot Professor of Biology Rachel Goodman, whom he credited with being inspiring professors who have been highly supportive. Soon after meeting, William enrolled in biology and changed his major, creating a new dream for the future.
With his new direction in mind, William reflected on Hampden-Sydney's history. Considering how the College prepares good men and good citizens, William understood that the College informs men on the beauty of life and all it has to offer, saying, "During my time at Hampden-Sydney, I have found that this school was created for people to understand the natural world and how it operates," William says. "I felt more in line with Hampden-Sydney and its traditions by making this switch. Little did I know that one trip to Africa would create a new dreams, sprouting a foreign calling that brings nostalgic happiness and one that allows me to flourish on the Hill."
After he graduates in 2025, William plans to attend graduate school abroad and pursue his Master of Science in biology, a life path he never imagined until he took the trip of a lifetime.